Dyson's Airstrait Uses Air to Straighten Your Hair Without Scorching It
No hot metal and no burnt hair.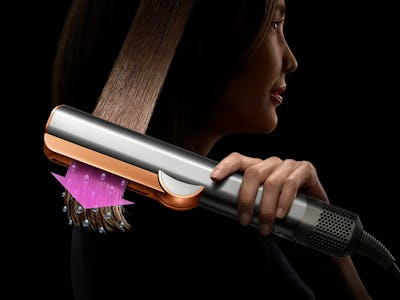 Dyson
Dyson last made headlines for selling air-purifying headphones, but the company's meat and potatoes is directing airflow, and it's found a new way to use that strength to improve hair care. It calls its new $500 hair straightener the Dyson Airstrait, and it's designed to straighten hair entirely with hot air alone, rather than metal plates that are prone to burning your hair.
The Dyson Airstrait isn't the first straightener Dyson's sold, but it is the first that uses the company's beloved "blades" of air to get the job done, a counterpart of sorts to the ultra-popular Airwrap, and another clever for protecting hair from damage over the long term.
High-Velocity Blades (of Air)
The Airstrait seems like an evolution of an idea Dyson originally debuted with its wireless Corrale straightener. In a nutshell, "Can we straighten hair at even lower temperatures to prevent damage?" The Corrale makes that happen by using flexible metal plates that gather hair and more evenly apply heat, but the Airstrait is skipping the plates entirely.
Using Dyson's Hyperdymium motors, Airstrait forces air out of two 1.5mm apertures that converge into a downward blade that dries and straightens hair at the same time. The Airstrait can also monitor temperature on the fly to prevent damage using "glass bead thermistors" that check the temperature "up to 30 times per second" and relay that information to an onboard microprocessor that can change temperatures on the fly.
The Airstrait has two styling modes for wet or dry hair, and a cool mode "to set the style," according to Dyson. Each has a range of temperatures they shift between depending on your needs. Really, the only way the Airstrait isn't a cutting-edge, high-tech hair care experience is that it's wired, and has to be plugged in to be used.
Availability
The Dyson Airstrait is available to purchase directly from Dyson's website for $499.99 in either a blue and copper finish or a nickel and copper finish.