Nothing Is Making a Big Leap Into Smartwatches and Chargers
A surprise product launch will kickstart Nothing's foray into accessories, including the Watch Pro, Buds Pro, and a GaN charger.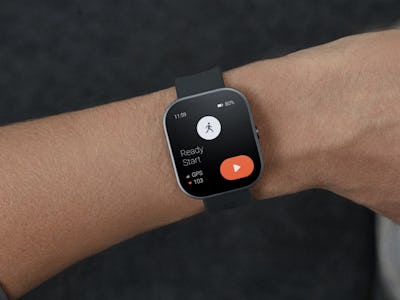 CMF
The Nothing product family just got a lot more crowded.
In a tweet (er, post) Nothing's founder Carl Pei — who has now overseen the launch of several generations of earbuds and two generations of phones — announced that Nothing's nascent sub-brand, CMF, will begin selling three new products: the Watch Pro, the Buds Pro, and universal charger called the Power 65W GaN.
Not bad for a Tuesday. Let's start from the top.
CMF Watch Pro
By far the most significant member of CMF's starting lineup is the Watch Pro — Nothing's first push into smartwatches. You'll find most of what makes a modern smartwatch tick here.
That includes the ability to take Bluetooth phone calls (with AI noise reduction), receiving (but not sending) text messages, a voice assistant, and a built-in GPS for navigation. One of the biggest standout specs is the battery. According to CMF, the Watch Pro can get up to 13 days of juice thanks to a 340 mAh battery with typical use. The caveat here is the qualifier of "typical use," of course.
In a Reddit AMA one reviewer who said he's been using the Watch Pro since Friday reported that it still had 60 percent battery. That's not 13 days, but it's still pretty damn good, all things considered.
Hardware-wise the Watch Pro sports a 1.96-inch AMOLED display with a 410 x 502 resolution that's capable of around 600 nits brightness. CMF says the watch also has an always-on display.
There's a pretty robust array of health sensors too, including a heart rate monitor and blood oxygen saturation monitor. Also, if you're constantly dehydrated like me, you'll be happy to know that your Watch Pro will remind you to survive by drinking water.
There's also a stress monitor and sleep monitor which are designed to help you "live a more balanced lifestyle." And on a slightly more woo-woo note, there's a breath training app that acts as a "reminder to be zen" and helps you "find your middle again." I don't know if a smartwatch is the key to being in the moment, but it's worth a try I suppose.
While neither CMF nor Nothing has said much about apps, according to a Reddit AMA there are around 68 different integrations so far that include "WhatsApp, Facebook / Messenger, Telegram, Discord," and more. I assume the app selection will only expand as time goes on.
The Watch Pro won't come with Wear OS either. According to CMF, it's running "CMF Watch app," which I assume is a custom Nothing-built OS.
CMF Buds Pro
Second up is, believe it or not, another pair of wireless earbuds. To date, Nothing has already released three pairs of Bluetooth earbuds under its primary brand. Superficially, the first thing you'll notice is... orange. I'm personally here for CMF's bold color choice. AirPods (and the Nothing Ear 2 for that matter) are great for blending in, but sometimes you want to make a statement.
If you're feeling less bold, the Buds Pro will also come in black and white.
On a less superficial note, the Buds Pro come with hybrid active noise cancellation (and a transparency mode for when you don't want ANC) and a case that has a pretty hefty 39 hours of battery life. CMF says the buds alone will have 11 hours of playback with ANC off and 6.5 hours with ANC on.
The features that catch my eye, however, are the ones focusing on bass. The Buds Pro come with a custom bass driver as well as "ultra bass technology" which CMF says "enhances bass in real-time." It's impossible to say what the result of those efforts are without trying them, but I'm curious to compare them against Nothing's Ear 2 earbuds.
The Buds Pro will notably use tap and swipe controls (like the Ear 1) instead of the squeeze controls found on the Ear 2, come with a six-microphone array for calls, and Bluetooth 5.3 for fast pairing. If you're a fan of the Nothing X app for EQ or custom ANC, then you'll be happy to know the CMF Buds Pro are also compatible.
Power 65W GaN
Finally, CMF is also releasing a charger with two USB-C ports and USB-A port that can fast charge pretty much all your devices. While the USB-A port has a max of 36W, both USB-C ports will be capable of 65W. Those will vary, however, depending on how many devices you have plugged into the charger simultaneously.
For the uninitiated, a GaN charger uses gallium nitride, which makes them more energy efficient and faster at charging devices than their silicon counterparts. According to CMF, its charger can bring a Nothing Phone 2 from 0 to 50 percent charge in 25 minutes.
A charger isn't quite as flashy as a new smartwatch, but I guess if you're selling a wide array of new devices, it makes a lot of sense to have a charger that can handle multiple devices at once.
CMF Watch, Buds, and Charger price and release dates
While neither CMF nor Nothing has given an official release date on any of the products it announced, one Reddit reviewer's AMA suggests that there will be a limited release of the Watch Pro on September 30 before a global release on October 10.
Pricing for all three products will be incredibly competitive.
CMF Buds Pro — $49
CMF Watch Pro — $69
CMF Power 65W GaN — $39
As for the Buds Pro and the GaN charger release dates, we'll keep our ear to the ground.