Beats' Studio Pro Headphones Outshine AirPods Max on Battery Life and Price
At $349, the Beats Studio Pro is way cheaper than the AirPods Max.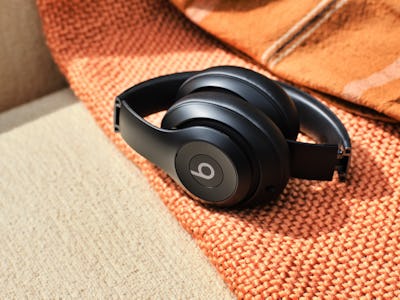 Beats
Beats, which is owned by Apple, just gave its latest over-ear wireless headphones a serious upgrade.
With the official release of the Studio Pro headphones, we can say for sure that Beats has the AirPods Max beat in a number of key categories, including price: $349 compared to the $549 AirPods Max.
40 HOURS OF PLAYBACK
As previously revealed, the Studio Pro can last 24 hours with either active noise cancellation or transparency mode turned on, and 40 hours without. The Fast Fuel charging means that you can get four hours of play-time by charging it for 10 minutes. That means you'll get more listening time and less downtime as compared to the AirPods Max's 20 hours of listening time with ANC or Transparency mode and its five-minute charge that gives you 1.5 hours of playback.
You can connect the Studio Pro with Bluetooth, USB-C or a 3.5mm headphone jack. When using the USB-C connection, you can choose between three audio profiles including the Beats Signature profile that's the most balanced, the Entertainment profile that's best for movies and games, and the Conversation profile that's suited for phone calls or podcasts.
Beats says its new 40mm drivers are a 80 percent upgrade as compared to the previous Studio 3 Wireless headphones. Beats also improved the Studio Pro's microphones to filter out background noise when you're taking calls, noting a 27 percent improvement as compared to the predecessor.
NOW WITH PERSONALIZED SPATIAL AUDIO
The Studio Pro uses its logo on the earcup as a multi-function button that lets you control playback, switch between listening modes, or take calls. If you tap above or below the button, you can adjust the volume.
Beats upgraded its Studio Pro with Personalized Spatial Audio, which can be customized when using an iPhone. Still, the Studio Pro has compatibility for both Apple and Android Users, and will work with Siri and Find My for Apple users, and Google Fast Pair, Audio Switch, Find My Device and Beats app for Android users.
PRICE AND RELEASE DATE
The Studio Pro is already available on Apple's website in four colors — Black, Deep Brown, Navy, and Sandstone. The wireless headphones will retail for $349.99 and will also be available at Apple stores and other authorized resellers.
Even though Beats has Apple's flagship headphones beat for the moment, there's no way Apple is going to sit for long at second place. With the AirPods Max having come out in late 2020, we're due for a refresh that should bring some serious upgrades.