46 Years Later, Atari Revives Its Most Iconic Console With Modern Upgrades
The best part is that it plays OG Atari 2600 and 7800 cartridges.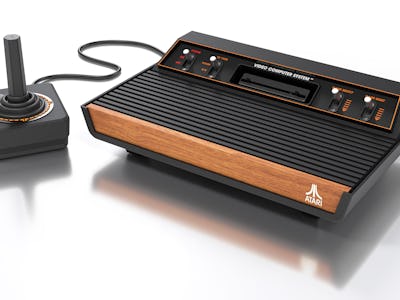 Atari
The classic beeps and boops of retro video gaming are back. Atari is relaunching its first video game console with a modern twist, now called the Atari 2600+.
Staying true to its iconic 1977 design, the Atari 2600+ keeps the fake wood grain panel and is compatible with actual Atari 2600 and 7800 cartridges. Don't own any OG Atari cartridges? Not a problem! The Atari 2600+ comes with a 10-in-1 game cartridge with classics like Missile Command, Video Pinball, and Yars' Revenge. No Pac-Man, Space Invaders, or Frogger, though, but if you still have the original cartridges, you can go crazy.
Modern Console Features
The original Atari wouldn't feel the same without a joystick, so Atari is offering an updated version called the CX40+ Joystick Controller that comes with the Atari 2600+. The Atari 2600+ is still two-player compatible, but you'll have to buy a second CX40+ joystick.
While not exactly a 1:1 reproduction of the 2600 — the Atari 2600+ is 80 percent the size of the original — it does have a logo that lights up while you're playing games. The design of the cartridge sock is also larger than the original to reduce the chances of cartridges getting stuck.
To bring the Atari 2600 into the modern age, there are HDMI and USB-C power ports with support for multiple resolutions, including widescreen configurations.
Atari 2600+ Price and Release Date
Atari says it's launching the Atari 2600+ on November 17 but it's already available for preorder at $129.99. Atari is also offering a $39.99 bundle with CX30+ paddle controllers and a 4-in-1 game cartridge with Breakout, Canyon Bomber, Night Driver, and Video Olympics. Mr. Run and Jump and Berzerk cartridges will go for $29.99 each.
$30 for these old Atari games feels a bit steep, considering all the other legal ways you could probably play them. You could probably pick up used versions of the OG games for less on eBay. But hey, who are we to tell you how to spend your money on nostalgia?