This Transparent Shell Gives the Asus ROG Ally a Dose of See-Through Nostalgia
Transparent tech is all the craze right now.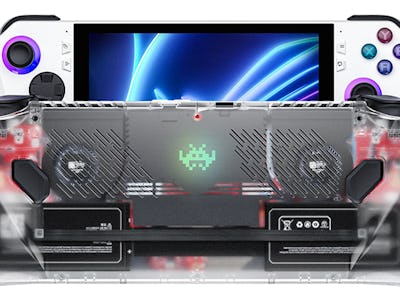 Jsaux
Transparent design is big again, and we've got another accessory to prove it. Jsaux's latest mod for the Asus ROG Ally replaces the back of the handheld with a transparent shell that pulses with RGB lighting to hammer home that Gamer (capital "G" intentional) look.
Considering how impressive the Asus ROG Ally is as a handheld, you should be able to admire its internals, especially the ones built with AMD's Ryzen Z1 Extreme chips. As a fair warning, you should have some DIY know-how before cracking open your ROG Ally to install this backplate.
THROW SOME RGB LIGHTING IN THERE
Once you've successfully installed Jsaux's transparent shell, you have access to five different RGB lighting modes that can be programmed five ways, including rainbow lighting, mixed-color breathing, or one that cycles the color spectrum. With a 170 mAh battery, you'll get three hours of RGB lighting, but you can recharge it via the USB-C port. The RGB lighting feels a little like overkill, but it does make your ROG Ally stand out.
Jsaux wants you to go even further with the customization with five preset slides that can match your RGB lighting patterns, along with another four that you can design yourself. Jsaux even made sure to include Asus' XGM port onto its backplate replacement, meaning you can still connect your modded ROG Ally to an external GPU for a boost in power.
WE WANT COSMETICS
The Steam Deck already has lots of aesthetic mods, including some transparent from Jsaux, but the ROG Ally is a serious competitor to the Steam Deck, and it should look the part.
Jsaux says the RGB Transparent Back Plate for the ROG Ally starts at $39.99. The accessories maker is also putting out a protective case for Asus's handheld, called the ModCase, that starts at $29.99 but can be upgraded to add a power bank for a total of $79.99.