This Game Boy-Inspired Handheld Can Play PSP, Nintendo DS, and Dreamcast Games
Jet Set Radio in a Game Boy form factor sounds amazing.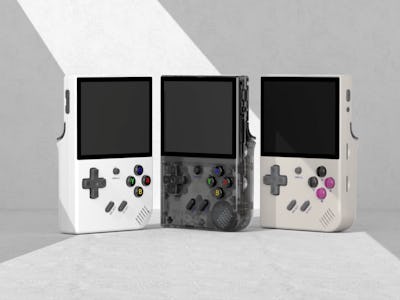 Anbernic
A Game Boy that can run PSP, Nintendo DS, and Sega Dreamcast games would be any millennial's dream handheld. So Anbernic is delivering just that with its latest device, the RG35XX Plus, which follows up on the popular non-Plus model.
The "Plus" in the RG35XX Plus means the Game Boy-inspired handheld has a more powerful CPU that lets it run more demanding retro handhelds and consoles; the RG35XX could only run up to PS1 games (and not always with playable framerates or controls). Anbernic says the RG35XX Plus supports over 30+ emulators and supports five languages (English, Chinese, Japanese, Korean, and Spanish).
In Anbernic's official debut video for the RG35XX, we can see the handheld running everything from Ridge Racer (PSP), to Metal Slug 7 (Nintendo DS), to Crazy Taxi (Sega Dreamcast).
REFINING RETRO HANDHELDS
According to an official RG35XX Plus promotional video, the handheld runs Linux and has a 1.5GHz H7000 quad-core ARM Cortex-A53 CPU, dual-core G31 MP2 GPU, and 1GB of LPDDR4 RAM. In terms of battery life, the RG35XX Plus has an eight-hour battery life thanks to a larger 3,300 mAh battery that's easily removable; the RG35XX only lasts eight hours.
The RG35XX Plus heavily resembles the design of Anbernic's first Game Boy knockoff, complete with a D-Pad, a four-button setup, and four back trigger buttons. While we love the classic design, it may be a little rough to play some driving games using a D-Pad. I guess if you want better controls (read: joysticks) for playing 3D games, Anbernic is happy to sell you an RG405V, RG353V/S, or RG351V.
Also, how the heck do you play Nintendo DS games that require a touchscreen for the second screen experience? Based on the video, the two screens are just squished on the RG35XX Plus' 3.5-inch (640 x 480 resolution) display.
Anbernic says the upgraded handheld will support Bluetooth 4.2 and Wi-Fi 5 (802.11ac), which will allow for multiplayer game compatibility. You can even stream PC games to the RG35XX Plus thanks to Anbernic's Moonlight Streaming feature. Alternatively, you can plug the handheld via HDMI and play on a larger screen. 2.4GHz wireless controllers are also supported; wired gamepads work, too.
Just like on the non-Plus RG35XX, the new handheld has dual microSD card slots that support up to 512GB of storage. There are two models: one with a 64GB memory card and another with that and and an additional 128GB microSD card.
One upgrade we'll have to wait for reviewers to test: the speaker. Anyone who owns an RG35XX knows that its built-in speaker sounds tinny as hell. Anbernic hasn't announced any improvement for the RG35XX Plus, only that it's a "high-fidelity" speaker.
NO WAITLIST REQUIRED
Anbernic won handheld lovers over with its RG35XX, which was widely available and more affordable than the likes of Analogue's limited edition runs of its Pocket. It seems like the company now wants to cater to those who expect a little more power with its RG35XX Plus.
The RG35XX Plus is available in white, retro gray like the OG Game Boy, and transparent black — as it should. The upgraded handheld will can be purchased directly from Anbernic starting at $63.99 for a unit with a 64GB microSD card. Models with a 64GB and 128GB microSD card cost $78.99.
This article was originally published on