This Flying EV Is Coming to a Car Dealership in California
If it ever gets made, that is.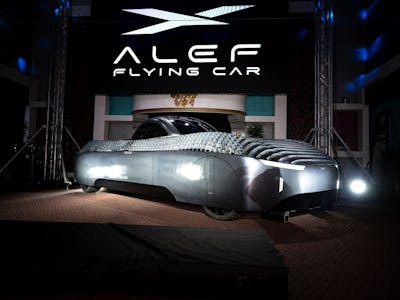 Alef
Electric vehicles have been shattering speed records on the ground, but none of them have taken to the skies yet. That may change soon as Alef is marking milestone after milestone for its fully-electric flying car, the Model A. Recently, the EV startup has landed around 2,500 preorders for its flagship flying EV and a partnership with a California dealership.
According to Alef, the number of preorders translates to around $750 million in revenue. That may be getting ahead of itself since the deposits are refundable and we haven't seen any of its flying EVs in action. Still, Alef has earned a lot of attention, resulting in 2,100 preorders from individuals and 400 preorders from business-to-business agreements.
THE FUTURE IS HERE
Alef debuted its flagship model, the Model A, in October, showing off a fully electric flying car that can carry either one or two people. Alef says its Model A can drive 200 miles on the ground and fly a maximum of 110 miles. Alef designed the flagship flying car to be capable of driving on normal streets but with the option to take off vertically in whitelisted areas.
Since it flies, the Model A has some key design features, like a cabin with a gimbaled design, closed propellers, distributed electric propulsion, and all-wheel driving. In June, Alef's Model A even secured a Special Airworthiness Certificate from the U.S. Federal Aviation Administration. We're still a couple of years away from Model A's release so there are still some crucial specs missing.
SUB-$35,000 FLYING CAR
Alef is targeting a $300,000 price tag for its Model A, which is still available for preorder. A $150 deposit will get you on the regular queue, but if you pay $1,500, you'll get placed on the priority queue. Eventually, the Model A will be selling at a yet-to-be-disclosed California dealership, where we expect you'll be able to take it for a test drive. Alef says it's looking to start production on the Model A in the fourth quarter of 2025, with plans to deliver the flying car shortly after that.
Even though we're skeptical of the Model A flagship, Alef already teased a much more affordable model of its flying car. Its long-term plans include a flying EV that's around $35,000, fits four to six people, has a 300-mile driving range, a 220-mile flying range, and can take off anywhere. But, we'll believe it when we see it.