Return of the Tesla Bot? New Video Teases AI Updates and Fresh Moves
They can deftly handle eggs, apparently.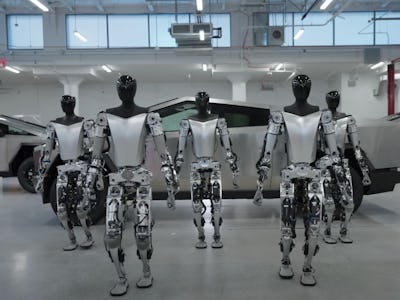 Tesla/YouTube
Tesla's humanoid robot prototype (known as Tesla Bot or Optimus) seems to walk relatively smoothly and can recognize and pick up objects with relative ease, according to a new video presented by Elon Musk at the Tesla shareholder event on May 16.
The faceless bots give off an uncanny valley vibe as they traverse the Tesla office in an intimidating pack — suggesting a major improvement from last year's lackluster demonstration at Tesla's AI Day event. At the time, employees merely held the bot on a stand and programmed it to wave to the audience. And when Musk announced the bot in 2021, all he had to show was a guy dancing in a suit.
Now, the new video promotes Tesla Bot features like "motor torque control," "environment discovery and memorization" — hinting that the robots can use cameras and sensors to map their surroundings — and skilled manipulation of objects. Tesla also indicated that the robot's AI system can pick up new tricks from human demonstrations: One clip shows an employee decked out in a futuristic suit and headpiece placing items in boxes while a 3D model replicates their movements.
Ultimately, Tesla hopes its humanoid Bot can accomplish "increasingly complex tasks," hinting at a potential ability to sort objects into boxes — likely a helpful skill in a factory production line.
Last year, Musk told The Wall Street Journal that the Tesla Bot could solve the human labor crisis. He has also claimed that these robots could eclipse the company's vehicle business. Last year, he estimated that each could cost "probably less than $20,000."
Tesla hasn't offered a clear timeline for production, and the company had previously stated that things could kick off this year. But it seems like engineers are still working out the prototype's kinks, and it could be years before the humanoids begin tinkering on Teslas in the factories of the future.