Is NASA's Artemis II Moon Mission Our Entry Into a 21st-Century Space Race?
NASA's Artemis II crew just got their first look at their Orion space capsule, and officials shared what's coming next.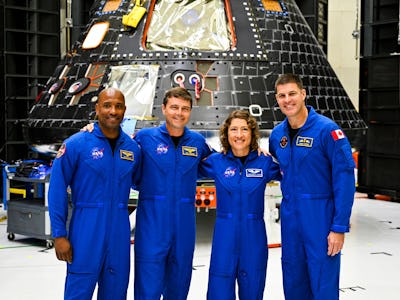 CHANDAN KHANNA/AFP/Getty Images
NASA Administrator Bill Nelson just announced a new space race — sort of.
Yesterday, at a press conference at Kennedy Space Center for NASA's Artemis II mission, Nelson expressed concern over what would happen if China arrived at the south pole of the Moon before the United States and denied other countries access to key landing sites and the water ice that's known to be in the area.
"The space race is really between us and China," said Nelson. "And we need to protect the interests of the international community for exactly the reasons I've laid out."
At the press conference, NASA also provided a crucial update on where the Artemis missions stand. And the Artemis II crew, which consists of commander Reid Wiseman, pilot Victor Glover, mission specialist Christina Koch, and mission specialist Jeremy Hansen, finally saw the spacecraft that they will fly to the moon in for the first time. Here's everything you need to know.
Artemis II Launch Preparation Timeline
After months of studying spacecraft systems and meeting Lockheed engineers and Navy recovery crews, the four astronauts finally got a look at the Orion crew capsule they'll call home for at least eight days while they are more than 6,400 miles away late next year.
"Seeing the capsule, for all of us, sent shivers down our spines," said Hansen. "I already knew going to the Moon was hard," he said, "but boy, it's harder than I thought."
Here's where the mission is at:
NASA is currently assembling the Orion crew module, which the Artemis II astronauts got a first in-person look at this week. Once it's assembled, Orion will need to be tested and linked up with the mission's service module, which the European Space Agency delivered in June. Ground systems teams will carry out further testing on the paired modules before they're ready to load up and launch.
Segments of the solid rocket boosters that will help carry Artemis II to orbit are scheduled to ship from a facility in Utah to Kennedy Space Center in the next few months. And in November of this year, the Space Launch System core stage should arrive from NASA's Michoud Assembly Facility in Louisiana, where it's currently undergoing some repairs on a fuel tube (aptly named a "downcomer" since it moves liquid propellent – you guessed it – downward).
In mid-November of this year, fans of NASA's giant crawler transporter can look forward to seeing the mobile launch tower roll out to the launch pad. After the Space Launch System dealt some minor damage to the launch tower during Artemis I's launch, NASA repaired some portions and upgraded others.
The heat shield problem is close to being solved. More material from Orion's heat shield charred and ablated away during Artemis I's re-entry than NASA's computer models and ground tests predicted. That extra ablation still left a safety margin, and Orion splashed down in the Pacific Ocean unscathed, but NASA still needs to understand why the heat shield worked the way it did and whether it's a potential problem for a crewed flight. The heat shield has been through several rounds of tests at NASA's Ames and Langley Research Centers, and NASA's Associate Administrator for Exploration Systems Development, Jim Free, says engineers are close to pinpointing the root cause of the (space) oddity. By the early months of 2024, the capsule and its heat shield should be ready to fly.
In February 2024, teams at Kennedy Space Center will start assembling the Space Launch System, the solid rocket boosters, the Orion capsule, the service module, and various other systems and payloads in the tall hangar of the Vehicle Assembly Building. This process, called stacking, will take a few months.
NASA officials say the Artemis II mission is on track to launch in late November of 2024. If all goes well, they'll return eight days later after having made a wide lap around the Moon.
NASA is still hoping to launch Artemis III – the mission that will land astronauts near the south pole of the Moon – in December 2025, despite concerns about whether SpaceX will have its Starship launch vehicle ready in time for the mission. Unlike the first two Artemis missions, NASA plans to launch Artemis III with Starship, but so far SpaceX hasn't managed to actually get its heavy launch rocket off the ground (at least, not in one piece). Speaking to reporters on Tuesday, Free expressed a mixture of concern and optimism.
A New Space Race
NASA is working with several other international space agencies, including the Canadian Space Agency, the European Space Agency, and the Japan Aerospace Exploration Agency. But Artemis isn't the only game in town (and by town, we mean the Moon).
India's Chandrayaan-3 lunar lander is scheduled to land near the lunar south pole on August 23. Russia's Luna-25 mission is also scheduled to launch a few days later, though it is likely to arrive before the Chandrayaan-3. Finally, China's Chang'e 6 lander, which plans to return samples from a site near the south pole, is set to launch in 2024.
The Chinese mission is the one that worries Nelson.
"We are in a space race with China," he said in response to a question from reporters.
Nelson expressed concern that China would potentially deny other countries access to landing sites and the water ice that makes the south pole such prime lunar real estate.
"You see the actions of the Chinese government on Earth," Nelson said, citing China's claims to the Spratly Islands, an island chain in the South China Sea also claimed by Brunei, Malaysia, the Philippines, Taiwan, and Vietnam. "So naturally, I don't want China to get to the south pole first, with humans, and then say 'this is ours, stay out,' as they've done with the Spratly Islands." (Quick fact check: The runways on the Spratly Islands are actually Taiwanese, although they were built partly at the behest of Chinese advocates; the Spratly dispute is one of the few things China and Taiwan agree on.)
Russia, on the other hand, isn't a real competitor in the new space race, according to Nelson. He referenced decades of U.S.-Russian cooperation in space, most recently on the International Space Station (although it's worth mentioning that the relationship has been strained since Russia's invasion of Ukraine) and added, "I don't think that a lot of people at this point would say that Russia is actually ready to be landing cosmonauts on the Moon in the timeframe that we're talking about going to the Moon, or that possibly China would be."