NASA: 100 tampons and 2 other times space travel failed female astronauts
Sally Ride did not need 100 tampons for a week-long mission.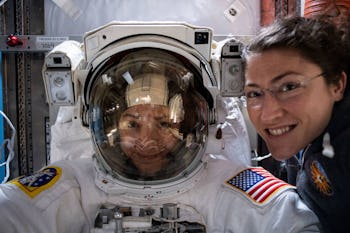 NASA
It finally happened. On Friday, October 18, NASA pulled off the first-ever all-women spacewalk featuring astronauts Christina Koch and Jessica Meir. The duo made history by venturing outside the International Space Station to do some routine maintenance work in zero gravity, but only after a series of setbacks.
Ever since the ISS first launched in November 2000, we've seen over 200 spacewalks, but this was the first to feature an all-female team of astronauts. It may seem overdue, but even in space, it's still difficult being a woman.
Female astronauts have been subjected to some absurd and nearly offensive moments in the male-dominated field of space exploration, from "space secretaries" to the time NASA sent 100 tampons into space. Here are the three most famous examples.
3. NASA sends 100 tampons to space
It wasn't until 1983 that astronaut Sally Ride became the first American woman in space (Russia had sent the first woman to space, cosmonaut Valentina Tereshkova, in 1963.)
For her week-long mission in space, NASA engineers famously asked Ride whether she would need 100 tampons to carry with her onboard. Even if Ride were to have an exceptionally heavy flow, that's still about 72 tampons too many.
But women menstruating in space was a big concern at one point in time, with people worried they may get "too emotional" to be able to operate in the space station. Even upon her return back to Earth, Ride had to face questions by the media asking her whether she cried when she was under pressure and whether the flight would affect her reproductive organs, according to an interview with Ride shortly after her return from space.
2. Space secretaries
In the 1960s, William Randolph Lovelace II, who specialized in aerospace medicine, led the first study of the effects of space travel on women. While NASA prepared their male astronauts for America's first trip to space, Lovelace ran tests on a group of women in his private clinic because he believed they could be better candidates for space travel since they are "smaller and lighter" than men and may require less oxygen.
However, before you go celebrating Lovelace's pioneering research, apparently he had other intentions.
Lovelace's reasoning was that orbiting space stations required a lot of work, and the male astronauts would obviously be busy with more important tasks, so they needed women to fill some lower grade jobs like answering phones and assisting at labs — basically your average "secretaries in space" work.
Still, the women who took part in the tests persevered. Thirteen out of 19 participants passed Lovelace's rigorous physical exams, and some of them later flew to Washington, D.C. to take part in public hearings before a special subcommittee of the House Committee on Science and Astronautics in order to allow female astronauts to go to space. However, NASA representatives argued that women could not qualify as astronauts, according to NASA records.
The US's first class of female astronauts didn't come until more than a decade later, and it took even longer for one to actually go to space.
1. NASA makeup line
In an effort to better accommodate the new class of female astronauts, NASA engineers actually designed a full-on makeup kit in 1978.
Astronauts generally received personal hygiene kits that include toothpaste, deodorant, soap, and a comb. When women started going to space, NASA went ahead and created a makeup kit.
It received … mixed reviews.
"It was about the last thing in the world that I wanted to be spending my time in training on," Ride said in a 2002 interview. "So I didn't spend much time on it at all."
And while Ride couldn't be bothered, Rhea Seddon, who was part of that first 1978 class of women astronauts, was actually quite interested in taking makeup to space on her three space shuttle missions.
"If there would be pictures taken of me from space, I didn't want to fade into the background, so I requested some basic items," she wrote on her website.
Things have changed a lot since then, but NASA has still been hard-pressed to come up with enough spacesuits for two women to do spacewalks at the same time. That changed Friday, almost 40 years after the first astronaut makeup kit.