The first all-women's spacewalk is finally happening this month
A size 'medium' spacesuit was beamed up to the ISS in preparation.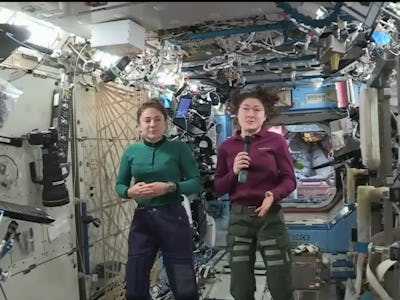 ISS
NASA is about to make history approximately 250 miles above Earth with the first all-women's spacewalk scheduled later this month — for real this time.
NASA announced a series of 10 upcoming spacewalks within the next three months, including one on October 21, in which astronauts Christina Koch and Jessica Meir will embark into space together.
Ever since it launched its low-orbit operations in November, 2000, the International Space Station has had over 200 spacewalks but never with an all-female team floating outside the spacecraft.
That almost changed earlier this year, but ended up in a major letdown for space fans down below.
In March, NASA announced that two female astronauts, Koch and Anne McClain, were going to climb out of the ISS hatch together to replace batteries on the station's solar array. However, those plans quickly changed when the space agency realized that both astronauts would require a size medium spacesuit and only one was available for the upcoming quest.
As a result, McClain was replaced by her male colleague Nick Hague.
Shortly after recovering from the backlash that followed, NASA promised that it now has two size medium spacesuits onboard the ISS that are ready for the zero-gravity handiwork.
"Subsequent to last year, we have launched another suit in medium configuration," Kirk Shireman, ISS program manager, said during a NASA press briefing on Friday.
Shireman reiterated the reasons that the first all-female spacewalk had failed to launch out of the ISS. "We've always had mediums on orbit," he said. "Every time you change a suit from one size to another…there's still adjustments that have to be made, and that takes time."
However, the team looked over the ISS crew for the next two years, and found that a lot of them would require a size medium spacesuit, therefore they sent up an additional one to the space station.
During a live feed from the ISS, Koch and Meir reflected on the historical significance of their upcoming spacewalk.
"What we're doing now shows all of the work that went in from the decades prior, all of the women that worked to get us where we are today," Meir said. "We don't even think about it on a daily basis. It's just normal, we're part of the team…so it's really nice to see how far we've come."
"I think it's important because of the historical nature of what we're doing, and in the past women haven't always been at the table," Koch said.
The astronaut is slated to make another record-breaking achievement, as Koch will complete the longest single spaceflight by a woman, with 328 days in space before she returns to Earth in February 2020.
Koch and Meir's spacewalk will be the fourth one to take place this month, all aimed at upgrading the station's solar array batteries from nickel-hydrogen batteries to newer lithium-ion ones.