This oil giant accurately predicted global warming — and still lied about it
ExxonMobil's internal research accurately projected global warming, even as their public messaging downplayed climate change.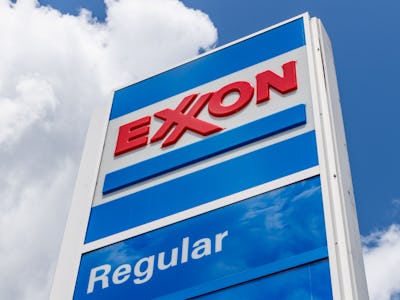 Shutterstock
In recent years, it's become clear that major oil companies knew far more about the dangers of global warming than their public communications suggested.
A 2015 report by Inside Climate News took direct aim at ExxonMobil, finding the company's own internal research linked fossil fuels to global warming, despite their public statements downplaying climate change. Fury emerged over the oil giant's history of climate change misinformation, and the hashtag #ExxonKnew became an activist rallying cry around the world.
Now, scientists have released a paper on ExxonMobil's internal projections on global warming — and the findings may just provide the most concrete data yet on the glaring gap between the company's internal global warming research and its public statements. The paper was published Thursday in the journal Science.
"Many people have heard the phrase or seen the hashtag, "ExxonKnew" but what exactly did they know? Our new study answers that question," study co-author and Harvard University earth scientist Naomi Oreskes, tells Inverse.
How they made the finding — The scientists analyzed Exxon's global warming projections, some of which were conducted in-house by Exxon, while others were produced by third-party companies and circulated internally among Exxon scientists.
In total, the researchers examined 32 Exxon internal documents produced by ExxonMobil scientists and managers and 72 peer-reviewed scientific publications authored or coauthored by ExxonMobil scientists between 1977 and 2014.
The researchers first compared Exxon's past climate change projections against the actual temperature changes over time. They also compared Exxon's models to those created by independent scientists unaffiliated with the company.
The researchers write that their findings offer insight into the disconnect between Exxon's "private understanding of climate science and its public climate denial." They focused specifically on Exxon — versus other oil companies — due to the corporation's large trove of global warming projections and their public record of countering climate science.
"Our paper is the first-ever systematic assessment of the fossil fuel industry's climate projections," Oreskes says.
What they found — In short: Exxon's models held up very well, predicting future global warming with a strong degree of accuracy. The study authors conclude:
"Using established statistical techniques, we find that 63 to 83% of the climate projections reported by ExxonMobilscientists were accurate in predicting subsequent global warming."
"Our analysis of the 'skill' level of these forecasts also shows that their skill was comparable, or even in some cases better, to the models being built by others at that time," Oreskes adds.
Further, despite their public statements challenging the certainty of climate change, their own internal research was pretty conclusive on the future likelihood of global warming.
"ExxonMobil's own scientists did not particularly emphasize uncertainty...at no point did company scientists suggest that human-caused global warming would not occur," write the researchers.
Further, Exxon's global warming models were in line with those conducted by independent scientists. The researchers conclude that "decades ago, ExxonMobil understood as much about climate change as did academic and government scientists."
Exxon's climate projections were so accurate that they were able to predict when we could first measure global warming caused by human activity.
In fact, Exxon's climate projections were so accurate that they were able to predict when we could first measure global warming caused by human activity. Their internal reports suggest it would happen in the year 2000 — plus or minus five years due to scientific uncertainty. Lo, and behold: In 1995, the Intergovernmental Panel on Climate Change reported for the first time that they had detected a human impact on global temperatures.
"We show that ExxonMobil had a highly nuanced and sophisticated understanding of what increased atmospheric carbon dioxide—from burning its product—would likely do to the climate system," Oreskes explains.
Why it matters — While previous investigative reports focused on the text of Exxon's internal reports on climate change, there had been little attention devoted to the charts and statistical projections on global warming in the company's internal research and memos.
"Indeed, no one has systematically reviewed climate modeling projections by any fossil fuel interest," the study authors write.
In analyzing these projections, the researchers provide quantitative proof that Exxon accurately knew about future global warming projections. Oreskes says Exxon had enough information to "grasp the character and severity of the problem."
The company did little to warn the public — and, in fact, actively cast doubt on the certainty of climate change models. From the study, then-Exxon CEO Lee Raymond said in 1999 that global warming projections are based on "completely unproven climate models." Rex Tillerson, a former Exxon CEO, also supported these claims casting doubt on climate models as recently as 2015, according to the research.
By questioning the validity of scientific models, the company not only challenged the claims of their own scientists but also downplayed the serious threat global warming poses to the world.
"For many years, I have been asked, 'what difference did it make that ExxonMobil and its allies ran disinformation about climate science? This new paper helps to answer that question." Oreskes says.
What's next — The findings are timely as numerous U.S. states and cities are currently waging lawsuits against ExxonMobil, alleging the oil giant misled the world for decades about the links between climate change and fossil fuels.
"They didn't want to admit that the use of [their] product, as intended, would lead to a potentially catastrophic global crisis," Oreskes says.
The paper's data will no doubt add fuel to the fire behind these legal battles.
"We are scientists. We think information is powerful. We leave it to lawyers, politicians, shareholders, and consumers to decide how to use it," Oreskes said.