Growing up with a dog could reduce your chances of gut disease — study
The connection between gut health and canine love is an intricate one.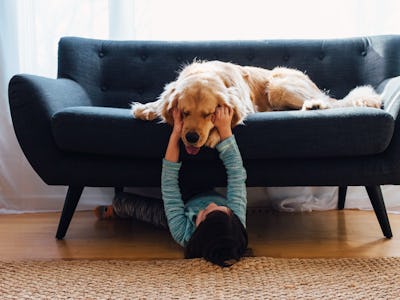 We've long known the myriad health benefits of owning a dog, from improved mental well-being to healthier aging. Specifically for children, studies find that dog ownership correlates with reduced anxiety and decreased response to stress. Now, there's another reason to adopt: It could help your gut health.
New research suggests living with a dog may yield a surprising benefit to children: improved gut health. Williams Turpin, lead author and a research associate with Mount Sinai Hospital in New York, presented the findings on Monday during the Digestive Disease Week conference in San Diego. The study will publish later this year in Gastroenterology, a journal published by the American Gastroenterological Association.
"There was improved gut viral function in individuals that own a dog," Turpin said during a press conference on the findings.
What's new — Turpin and his team found that children living with a dog between the ages of two and four were significantly less likely to develop Crohn's disease later in life, though exposure to dogs at all ages in childhood had a similar effect. Second, children under the age of one who lived in a large family (with or without a dog) — with three or more family members — also had a reduced likelihood of Crohn's disease.
Crohn's disease is a long-term inflammatory bowel disease that causes inflammation in the digestive tract, leading to painful symptoms like diarrhea and abdominal discomfort.
But little is known about environmental factors contributing to the digestive disease, such as family size and pets. So, Turpin's team set out to better understand the relationship between the environment we live in and our risk of developing Crohn's Disease. The participants ranged in age from less than one year old to 15 years old.
"We found that individuals living with a dog were actually less likely to develop Crohn's disease later in life," Turpin says.
Why this happens — The findings puzzled researchers, who were initially uncertain about the association between dog ownership and improved gut health.
"What was the possible mechanism explaining why dog owners were less likely to develop Crohn's disease?" Turpin asks.
The scientists honed in on clues in the gut to come up with a reasonable explanation. The researchers detected no significant difference in markers of gut inflammation between children living with dogs and those who did not have dogs.
But when they looked at the leakiness of the gut — issues in the gut lining barrier that can lead to inflammation and changes in the gut microbiome — there were clear differences between the two groups. Children living with dogs had "consistent protective effects" against gut leakiness according to Turpin, which could help reduce the likelihood of developing Crohn's disease.
As it turns out, these two factors — owning a dog and living in a large family during childhood — were associated with changes in the composition of the individual's gut microbiome later on in life. The gut microbiome consists of all the viruses and bacteria — good and bad — that thrive in the digestive tract. A healthy gut microbiome helps us digest food, influences the immune system, and wards off pathogens, among many other vital functions. Certain bacteria in the gut are linked to everything from Crohn's disease to Type 2 diabetes.
Sadly, cat owners did not see the same benefits as children with dogs, though researchers aren't certain why.
"It could potentially be because dog owners get outside more often with their pets or live in areas with more green space, which has been shown previously to protect against Crohn's," Turpin says.
How they did it — The researchers used a questionnaire to identify possible environmental factors associated with the development of Crohn's disease. As part of this questionnaire, scientists interviewed more than 4,000 healthy participants who were relatives of individuals with Crohn's disease.
Based on a follow-up more than five years later, researchers found nearly 90 individuals went on to develop Crohn's disease. From the environmental assessment questionnaire, researchers were able to figure out which childhood factors were relevant to the onset of Crohn's disease later in life.
"This study shows that living with a dog and having a larger family in early life may be protective against the future development of Crohn's Disease," the researchers conclude.
What's next — Before you start entertaining thoughts of getting a dog for your child, you might want to exercise some restraint. It's still not totally clear why dog ownership improves gut health, and it's also possible biases related to the types of individuals recruited could have affected the outcome of the study.
Still, for those families with small children who already own dogs, the new research will likely just serve as an added bonus to the many perks of living with man's best friend. One day, it might turn out your healthy gut may just have Fido to thank.