SpaceX Crew-3 Dragon: Date, time, and how to watch NASA's next launch
Here's what you need to know.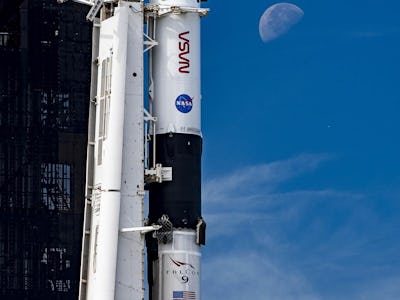 NASA's next crewed flight to the International Space Station is scheduled for lift-off from Kennedy Space Center in Florida at 9:03 p.m. Eastern on November 10, 2021.
If this launch is canceled, there are backup launch windows available on November 11.
It was originally scheduled to launch during the early morning hours of October 31. The launch was delayed due to a large storm system. It was then rescheduled to November 3, before the announcement the launch date was once again shifted to November 6.
According to NASA, the November 3 cancellation was "due to a minor medical issue involving one of its crew members." The agency states this is not a medical emergency and not related to Covid-19.
Crew Dragon Endurance is expected to dock to the ISS at 7:10 p.m. Eastern on November 11.
The Crew-3 mission will fly atop a SpaceX Falcon 9 rocket — but you can watch it soar from the comfort of your own home here on Earth. Here's everything you need to know about the Crew-3 mission and how to watch the launch.
What is Crew-3?
As the name implies, Crew-3 is the third crewed launch of NASA's Commercial Crew program, in which the space agency works with private space companies like SpaceX to ferry people and cargo between Earth and the ISS.
SpaceX, with its Crew Dragon spacecraft, is the only operational commercial crew provider at this time, giving it quite an edge on the competition. Boeing's Starliner spacecraft could eventually be part of the Commercial Crew program in 2022 — if the company resolves technical problems with the Starliner craft and manages to conduct a successful orbital test flight for safety.
When does NASA Crew-3 launch?
The Crew-3 launch is currently scheduled to take off no earlier than 9:03 p.m. Eastern on November 10.
However, the precise launch time could once more change before or on the day. Factors as mundane as bad weather and as troublesome as technical issues can always put a hold on the launch until they are resolved.
NASA tends to give updates on launch schedules ahead of time. You can keep up with the agency's schedule via the official Commercial Crew Twitter, too.
How to watch the Crew-3 launch
NASA has a full slate of programming around the Crew-3 launch, its journey to the ISS, and its eventual meet-up with the space station.
The agency will broadcast pre-launch preparation and the actual Crew-3 launch from the NASA webpage, NASA TV, the NASA app, and on the space agency's YouTube channel.
The webcast will go live on November 10 at 4:45 p.m. Eastern.
If you live near Kennedy Space Station, you can gain access to viewing sites by purchasing a viewing package.
You can also watch Endurance dock to the ISS at 7:10 p.m. Eastern on Thursday via NASA TV and on the NASA website.
What is NASA's Crew-3 mission?
Crew-3 is an ISS crew rotation mission. After reaching orbit, the Crew-3 capsule will dock with the ISS almost 24 hours after it launched from Earth. It is supposed to deliver four astronauts to the ISS for a six-month stay aboard the orbiting laboratory.
The Crew-3 mission will fly in a brand new Crew Dragon capsule produced by SpaceX and dubbed Endurance.
This isn't a straightforward changing of the guard, however. The Crew-3 astronauts will replace those on the Crew-2 mission, but these astronauts will not return to Earth until later in November. The Crew-2 mission astronauts will also use a different Crew Dragon capsule to make the journey home — the Crew Dragon Endeavor.
Why is there a new Crew Dragon?
Crew Dragon capsules are designed to be reusable for at least five flights but require refurbishing between each mission, and SpaceX's fleet initially consisted of just two spacecraft.
The Crew Dragon capsule Endeavor is currently docked at the ISS, having carried the Crew-2 mission to the space station in April. It returned to Earth on November 9.
The most recent flight of the Crew Dragon capsule Resilience was Inspiration 4, the first all-civilian orbital space flight in August.
Endurance is the first of two new spacecraft SpaceX is adding to its fleet, with a fourth Crew Dragon vehicle expected to fly sometime in 2022.
Who is part of NASA's Crew-3 mission?
The Crew-3 astronauts include:
Commander Raja Chari, a NASA astronaut
Pilot Tom Marshburn, also a member of NASA
Mission Specialist Kayla Barron, also a member of NASA
Mission Specialist Matthias Maurer, who is a European Space Agency astronaut
The Crew-3 astronauts are scheduled to return to Earth in late April 2022. Meanwhile, the Crew-2 astronauts will likely return in early November (their exact return day is not yet known).
This article was originally published on