FaceApp: Here's What You Really Need to Know
Can what you're uploading be used against you?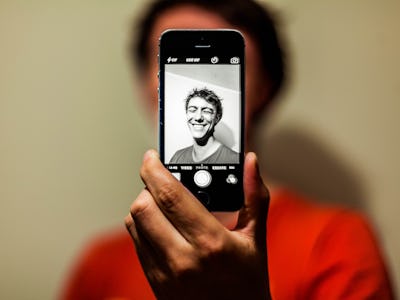 Unsplash / Antoine Beauvillain
FaceApp, an app that uses A.I. to manipulate and edit photos of your face in a vast array of ways, is having another viral moment. You may remember FaceApp, whose highly memeable filters have been in the news before, sometimes courting controversy.
Recently, FaceApp has been all over social media due to its uncanny ability to produce aged, photorealistic images of people.
Using A.I., the app alters a photo you select to age it. It can also make you appear younger, and premium features allow you to add things like different hairstyles, beards, or even flip genders. FaceApp was developed by Russian company Wireless Lab, and uses neural network technology to automatically generate highly realistic transformations of faces in photographs.
The outcome is eerily realistic. In the below side-by-side, you can check out how the app transforms me into a weird aging rocker contemplating a reunion tour he is definitely too old to undertake.
The rise of the #FaceAppChallenge on Twitter, in which people post side-by-side photos of them now vs. their older selves, has led the app to go viral, with celebrities like Drake, Kevin Hart, and Dwyane Wade getting in on the action. Its ubiquitousness has also prompted some privacy concerns, resulting in a great deal of misinformation about your photo libraries being uploaded to unregulated and scary "Russian servers."
Here's what you really need to know about FaceApp, including what data it collects from you and how it affects your privacy.
How-to Guide
FaceApp is easily accessible in the Apple or Google Play store. All you need to do is go in on your device, search "FaceApp," and then download it. Once you've done so, open the app and you'll be prompted to turn on notifications (you can choose not to) before you get to the home screen. Once there, you will have to allow access to your photos for FaceApp to pull them into the app. It pulls in what it can identify as selfies. (For example, a photo of my friend and their cat got pulled in.) Once you do so, you can pick which photo you want to edit.
After it uploads, you're able to apply certain filters to it along the bottom of the screen, including "Age," which gives you options to age your photo or make it look younger, "Smiles," which makes you smile, and "Beards," which adds various kinds of beards to your face.
There are a number of other options, but almost all of these options only give you one or two filter options within them. The rest are reserved for premium users, which, as you may guess, costs money.
There is also the "Cool Style" filter which … is a very specific idea of cool.
FaceApp Raises Privacy Concerns
Given that FaceApp asks to access your photos, pulls in a lot of photos from your library, and uses A.I. to alter them, internet users have naturally expressed varying levels of concern around the privacy implications of the app.
Is it automatically uploading all of your photos to its servers? Is it being used to train A.I.? Is it a nefarious election hack because it was developed by a Russian dev team?
In short, the answers to those questions are no, yes, and no. But let's unpack it further.
First, FaceApp does not automatically upload your entire photo library. The app only works on the single photo you select out of your library, not the entirety of it. On an iPhone, Apple API allows developers to let the user select single photo from a "system dialog." This is the only photo the app can work on. Additionally, it can be seen as a positive that you have to express consent for the app to access your photo library. In doing so, you're actively opting into it, which is not a courtesy all apps afford us.
Second, yes, the FaceApp is most likely being used to further train and hone the tech it uses to produce these altered images of your face. That in itself is not bad. That's how training A.I. generally works, by feeding it data. Where it could get dicey is what that A.I. is then used for outside of FaceApp.
Finally, after the 2016 elections, in which Russian operatives used social media to try and influence the US elections, it seems every piece of tech or software developed by Russians are viewed skeptically. But when it comes to this app, the concerns seem particularly unfounded. What is Russia going to do with your face? Use it as the profile image of a fake Facebook account? Use it to hack the voting rolls in Ohio somehow? There is a difference between critical analysis and full-on xenophobic paranoia. FaceApp.io's servers aren't even based in Russia, as some on social media have claimed, but are based in Amazon data centers in the US, according to Forbes. The company is based in St. Petersburg, so the faces will be viewed and altered there, but that's via communications with their US-based servers.
Certainly everyone should be careful about what they're downloading, and the Terms of Service for FaceApp are just as bad as Instagram and Facebook when it comes to sharing what data it does have, but the fact that it was developed by Russians has nothing to do with that.
Premium Features
For $3.99 a month, or a one-time payment of $39.99, you can get FaceApp Pro, which offers a number of other features.
Some of these include premium filters, which include a much larger number of filters than the free version of the app, which only has a few. Want to touch up your selfie? See what you would look like with a number of different beard styles? Want to apply makeup to your photo? FaceApp Pro lets you do that. You'll also receive new filters and updates to existing ones.
Additionally, you'll have the ability to remove the FaceApp watermark that appears at the bottom of altered photos, choose to only alter one face in a group photo, and you get priority photo processing when the app is particularly busy. You'll also be able to use the app ad-free.
So when it comes to FaceApp, feel free to age as many photos as you like. Try your friends, your family, your already old grandparents, or even your pet! If protecting your selfies at all costs is a priority, the #FaceAppChallenge wasn't going to appeal to you anyway.