Prime Day 2019: Build Your Dream Home Office With 5 Productivity Deals
A one-stop-shop for your dream home office. 
by James Dennin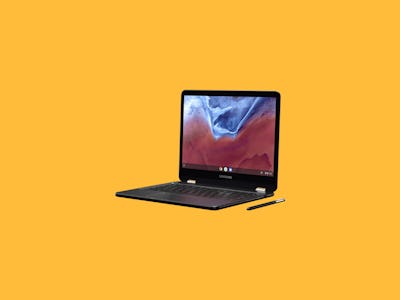 Samsung 
Amazon Prime Day 2019 kicks off on Monday, July 15 at 3 a.m. Eastern. If you're thinking about starting a business or living the #workfromhome life, it's a good opportunity to finally take the spare room or junk corner you've been working in and turn it into a bona fide home office.
Working from home can be a mixed blessing for a lot of people, several studies have found. On one hand, you get better work-life balance, throw in a load of laundry or cook your own lunch without skipping a beat, and forego the whole commuting thing, which is stressful.
But you also need to make sure that your home is a place you can get things done, without too many distractions and all the productivity tools you'd have at your fingertips if you'd schlepped into the office. With Amazon Prime Day around the corner, we poured through all the likeliest deals on home office equipment and electronics so that you can get the home office of your dreams on the cheap.
If you're really banking on a particular item, it's a good idea to download the Amazon Prime app so that you can track particular deals, get previews of which deals are coming, and unlock extra discounts ahead of the big day. And as for which home office deals to watch for, here are five of the best.
If you're going to set up a legit home office, first thing's first, you're going to need a desk. Amazon hasn't yet announced any deals on desks specifically, but it will be offering up to 30 percent off on "select furniture, mattresses, and area rugs," which, knowing Amazon, sounds a lot like the offerings of their in-house furniture brand Rivet. In addition to furniture, mattresses, and area rugs, Rivet also offers a handful of desks, most of which are pretty reasonably priced already.
The FurniChoi L-Shaped Computer Desk, pictured below, is $199.99. At a 30-percent discount, it'd be a steal while still offering more than enough desk space and shelving.
For laptops, your best Amazon Prime Day bet is likely going to be to pick up a Chromebook, as Amazon says "select" Chromebooks will be on sale (though it didn't specify which). There are a lot of solid options, though Google's in-house Chromebook seems a bit unlikely, even in light of the peace treaty. We recommend staking out an Asus Chromebook, Laptop Mag's top pick, which is $549.99 right now without a discount.
Amazon's offering steep markdowns on its eero home mesh wifi systems, promising that Prime customers will be able to get up to $200 off. A $299.00 bundle before Prime Day includes one eero Pro and one eero Beacon, which can extend your home wifi signal and make it more reliable.
This should be plenty of mesh wifi to cover a 1-2 bedroom home, according to Amazon. An extra beacon will cost you an extra $100 or so, not counting any Amazon Prime discounts. Particularly if you share your home wifi with anyone during the work day, the extra Beacon may be worth it so their Netflix streaming doesn't get in the way of your work wifi signal.
While the Asus Chromebook is well-reviewed, you'll probably want to pair it with a monitor. For Prime Day 2019, Amazon will be offering up to 50 percent off select PC monitors. The HP 23.8-inch monitor was the top pick for most people from Wirecutter and is only $109.99 pre-Prime Day. With a full 50-percent discount, you might be able to pick up one of the top-rated productivity monitors for under $60. Not bad.
By far, the most beloved office perk I've ever been able to enjoy was an office seltzer machine that spat out cool, sparkling, sometimes-flavored water on command.
If you also find that a refreshing beverage every hour or two helps you work and are starting to feel guilty about the piles of La Croix cans in your kitchen, Amazon Prime Day will be offering discounts on SodaStream Sparkling Water Machines. They haven't yet revealed how steep the discounts will be, but a bundle including a machine, two CO2 canisters, two seltzer bottles, and flavorings is only $119 pre-Prime Day discount.
If you're looking to spec out your office even more, Amazon Prime is obviously offering dozens of other details, including many printers, and even 3D-printers. Bear in mind that some of the deals are so-called "Lightning Deals" that sell out fast, so you may want to camp out on the page of certain items you want if you're not setting alerts. If you have an Alexa, you can also get an early sneak preview of which discounts might be coming by saying, "Alexa, what are my Prime Day deals?"
And if you need an Alexa-compatible device, those'll be on sale, too.