Want Access to These 5 Excellent Prime Day Deals? Register for Amazon Prime.
Is Amazon Prime worth it? We ran the numbers. Here's what we found.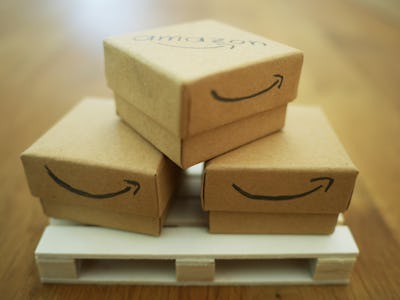 Unsplash / Mein Deal
Prime Day is Amazon's epic two-day sale event and it's coming up soon. The thrill of the hunt on this day is that most of the deals are a surprise until you get there. (There being parked in front of Amazon on July 15th and 16th.) But there are some amazing deals available now.
Want to be able to hit the ground running on the 15th? You need to have Amazon Prime to participate. If you're wondering if that's worth it, let's run the numbers.
First of all, there are the shipping benefits. Those start with free two-day shipping on most things. This changes your life, honestly. No more weekends spent looking for batteries, lightbulbs, dog food, or clothes. Order from the app when you think of it and get on with your life.
Then there is Amazon Prime Video. Cancel your cable and watch movies, TV shows, Amazon Prime Originals, and more. Amazon Prime Video is included in your annual fee.
Planning a trip to Whole Foods? Sign up for Amazon Prime before you go. Then show your Prime Code to the cashier when you go through checkout. You will find $10 to spend on Amazon Prime Day deals in your Amazon account when you hit the online merchant to shop. You have to use this money around Prime Day so this is only a deal if you move now.
Prime Day is always the best time to buy Amazon's own devices. Even a few days before Prime Day, this year, the Echo Dot is on sale for $24.99, which is almost half what it normally costs.
If you want to expand your Alexa's reach in your house, want an Echo Show or any of Amazon's other devices, this is the time to get it!
If nothing else, the Echo Dot makes an excellent alarm clock, able to wake you to songs of your choosing at the hour you tell her to wake you. But she will do much more than that, including remind you of things you are like to forget, keep track of your shopping list, read the news and your Kindle books, and give you the weather rundown.
Amazon's Unlimited streaming music is already a better deal than most subscription music services and it works seemelessly with the Amazon Echo devices. If you sign up for Amazon Prime now, it's only $0.99 for four months. After that it goes up to $7.99 for Prime Members. (It's $9.99 a month for non-Prime members.)
There are some early deals, too, in electronics and elsewhere. But the real deals start to happen on Prime Day, not before.
If you aren't sure you want to risk your $119 on deals you haven't seen yet, here's a pro tip: Sign up for the free trial right now, have fun shopping Prime Day, and — if you don't think Prime is worth it — cancel after Prime Day. You'll still get to shop the deals!
The Numbers:
Free two-day shipping: How much you save depends on how much you shop.
Prime Video: Free viewing all year? If you compare that to what the cable company charges, you can't lose.
Prime Music Unlimited: A buck for four months of unlimited music and then $7.99 a month? That's a good deal if you listen to music.
Discounts at Whole Foods: Amazon Prime members get exclusive discounts at Whole Foods. Do you shop there and hate their pricing? This might help.
None of this ads up to a sure thing for everyone. But, for many people, Amazon Prime saves them a small fortune. And there's a free trial so you can see if it fits your lifestyle before you commit.