5G iPhone: New Render Depicts the Massive iPhone 10X-Like Overhaul for 2020
The totally notchless iPhone is on the way.
by James Dennin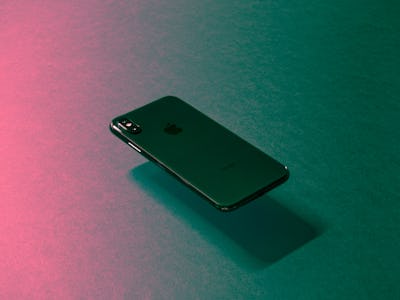 Unsplash / Tyler Lastovich
The 2019 iPhones seem likely to be controversial, with their massive camera bulges, a far-from-notchless design, and most of the sought-after upgrades like 5G and a compact handset slated to be held until 2020.
The silver lining is that this sets up the 2020 iPhone lineup's improvements to be much more substantial. Indeed, Apple has so much planned that it will release four new models instead of three, according to an investors note by JP Morgan analyst Samik Chatterjee and first reported by CNBC last week. Three of the four smartphones predicted by Chatterjee sound like new flagships, which will boast 5G and OLED screens, while one will have neither and be marketed as a budget successor to the iPhone XR and iPhone SE.
While the leaks obviously haven't been confirmed, we are starting to get an idea of what these new iPhones will look like, thanks to a new render from smartphone leaker Ben Geskin. Geskin's latest concept combines the recent leaks to depict a 2020 iPhone concept which iPhone fans have long hungered for: an entirely notchless smartphone whose front is almost entirely screen.
What Else We Know About the 2020 iPhones
It's worth noting that the JP Morgan note conflicts in some ways with other notable predictions, including the lineup foreseen by the notable Apple analyst Ming-Chi Kuo. For his part, Kuo still maintains that Apple will continue releasing three iPhones per year through 2020, according to a note reported by 9to5Mac in June. But whether Apple launches three flagships or two, several other industry predictions align with the notchless display in Geskin's recent design.
For example, Apple is said to be finalizing a screen design without any cut-outs, according to a Credit Suisse report found by Forbes contributor Gordon Kelly. Credit Suisse's prediction hinges on a new TrueDepth camera that's embedded underneath the display, as well as a plan to begin phasing out Face ID and replacing it with a new form of Touch ID that lets you scan your fingerprint by touching anywhere on the display.
The big difference? Like Kuo, Credit Suisse also foresees a single substantially overhauled iPhone alongside two more modest upgrades. This suggests the 2020 roster could look like the one unveiled in 2017, which saw the iPhone X rolled out alongside the iPhone 8 and the iPhone 8 Plus.
While some of the reports diverge slightly, several predictions have started to become codified. Specifically, the 2020 iPhone lineup will introduce the first 5G-supporting modem in an iPhone. The 2020 iPhones are also expected to support the most powerful augmented reality and virtual reality features Apple has introduced to date, all bolstered by a new 3D camera. In addition to games, JP Morgan expects a driving-focused AR program.
The 2019 lineup is expected to be largely unchanged by the XS, XS Max, and XR that were introduced last year. That said, it does look like 2019 might still offer something for iPhone fans to get excited about, a new, more substantially reimagined pair of wireless headphones to go alongside the AirPods "half upgrade" that Apple introduced in March.
Apple's plans should become clearer after it hosts its next big media event to showcase the iPhones in September, barring a major departure from norms. But it does look like 2019 will continue to be the year Apple focuses on services, while its most exciting hardware will remain on deck.