Toyota's New Solar Car Boasts a Staggering Range, Defying Solar Car Critics
Solar powered cars might not be as impractical as we feared.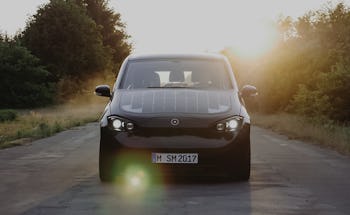 Toyota 
Ready to drive to work using energy from sunlight and sunlight alone? Toyota, one of the world's largest automakers, last week unveiled a new solar-equipped version of its Prius plug-in hybrid that may soon be able to do just that.
The new vehicle, set to start public trials later this month, uses Sharp solar panels with a staggering efficiency of 34 percent-plus. By comparison, many mainstream consumer solar panels still claim an efficiency that's below 20 percent. The result of Sharp's improvements is a car that can add up to 28 miles to the car's battery range per day when parked, and an incredible 35 miles to the car in a day when driven.
It's a big jump forward, and notably puts the capacity for solar cars within range for many commuters (if not most of them). In Germany, for example, the average commute is just 10 miles per day. With further improvements, even formidable American commutes could be within reach. According to the U.S. Department of Transportation data, Americans drive an average of around 13,474 miles per year, which equates to around 37 miles per day. That means the Prius test model could provide enough energy to cover a day's driving.
Toyota Solar Car: Specs, Release Date
The solar car boasts impressive specs. It has a power generation output rated at around 860 watts, fueled by triple-junction compound solar cell modules. Each cell is around 0.3mm thick, meaning the developers could install it over curved parts of the car. Panels are located on the roof, hood, rear hatch door, and the rear hatch door garnish.
These figures improve greatly on the $2,000 solar roof option first offered by Toyota back in 2016. That version offered a conversion efficiency of 22.5 percent, and a power generation output of 180 watts. These figures translated to a maximum additional charge of 3.8 miles when parked in a day. Unfortunately, when the car was driving the panels would only supply power to the auxiliary battery, meaning the car would receive no range boosts while driving around.
Toyota, along with partners Sharp and NERO, now plan to test the vehicle on the streets of Toyota City, Aichi Prefecture, Tokyo, and other as-yet-unspecified areas. The Vehicle Strategy Committee will consider the benefits based on factors like how many times the vehicle still needs to be plugged in. The committee previously published research in January 2018 that showed a solar car could reach one kilowatt of energy output.
Solar Powered Cars Are Gaining Speed
Toyota's embrace of solar energy stands in sharp contrast to the rest of the automaker industry. Tesla CEO Elon Musk dismissed the panels as "not that helpful, citing the lack of surface area and the fact that cars are often inside, for example when parked in a garage. Musk's company has instead focused on putting panels on houses, like the Tesla Solar Roof.
Toyota does have some competition on its hands, though. Sono Motors, a Germany-based startup, has developed the Sion solar car due to begin manufacturing in the second half of 2020. The 158-mile all-electric car can gather a further 21 miles of energy from its solar panels, storing the energy in its 35 kilowatt-hour battery. The car is expected to cost just €25,000 ($28,351).
Another more experimental design, the Lightyear One, promises that it will get 450 miles of range from its battery. The car's five square meters of panels can add up to 7.5 miles per hour to the battery. The car's manufacturers claim that in total, it can drive just under 500 miles, or the entire length of the Camino de Santiago de Compostela. An average Dutch driver would get around 40 percent of their car's energy from solar alone.
While the One is just a prototype, it seems sunlight is slowly starting to hit this area of electric car development.