The Toyota Prius Will Have Solar Panels
They will double the car's range -- drivers can go 37 miles on a single charge.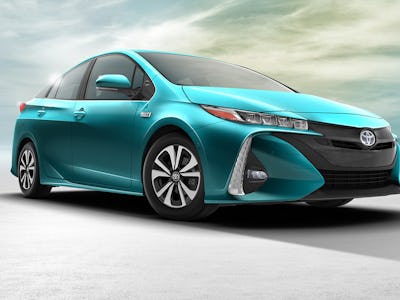 Toyota 
Toyota this week unveiled a new model of its Prius that includes the option for a solar panel roof, which doubles the vehicle's electric range to 37 miles from 16.4 miles on a single charge.
That's a far cry from the 100- to 200-mile range that full-electric car manufacturers such as Tesla and Nissan promise, but Toyota's moving in the right direction and is betting consumers still want a hybrid experience.
Toyota first unveiled the U.S. version dubbed the Prius Prime in March at the New York Auto Show, which included a new exterior design, a new 11.6-inch media tablet inside, and the announcement that it is the first plug-in electric vehicle on Toyota's line.
With the unveiling in Japan, the company says the international version named the Prius PHV will come with a new solar panel roof that increases battery efficiency by 10 percent.
Drivers will be able to run the vehicle in full electric mode for quick trips to the store and charge up at EV stations, but when it comes to long trips the gas engine can kick in for hybrid support.
The car battery will be able to charge in the sun while parked and will power air conditioning, lights, and automatic windows.
According to Auto News the vehicle will first go on sale in Europe and Japan with a fall debut planned for the United States.
The reason for the delay in the United States has to do with Federal Motor Vehicle Safety Standards and Regulations. Toyota hasn't been able to engineer the solar panels in a way that pass safety standards during a rollover crash scenario, however it's been deemed safe enough in other countries.
Toyota hasn't yet found a way to laminate the photovoltaic cells in a resin that won't dangerously shatter during a rollover, according to Koji Toyoshima, chief engineer of the Prius plug-in, adding that they are working on a solution.
"We would like to introduce this, at least in the lifetime of the current model," Toyoshima said. "It should be possible to do a lot of charging this way in places like California or Arizona."
During the New York Auto Show, the company announced Prius Prime would cost $30,000 after federal tax credits, but that's without the solar panel roof. There's no word on whether the solar panel will be an added feature or one that's built into all models.
This isn't the first time a car has implemented solar panel roof technology, but it is the first commercial vehicle. General Motors in 2008 debuted a solar panel concept car called the Saab 9-X BioHybrid at the Geneva auto show.
Toyota is also working to make autonomous cars, or at least semi-autonomous cars that will assist drivers and avoid accidents.