iOS 13: Five Features and Changes You'll Hate Immediately
Some of this will take some getting used to. 
by James Dennin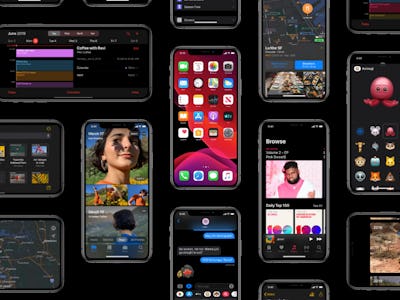 Apple 
iOS 13 seems pretty likely to be a banger. Apple users have been asking for some of the incoming features like Dark Mode and iPad multitasking for years. Apple also matched its privacy rhetoric with some powerful new features, and showcased some incredibly immersive augmented reality tech in its Minecraft demo.
It's an incredibly comprehensive update, too, with some long-standing Apple experiences being substantially changed or nixed entirely. The new Reminders app got a total overhaul, and, in a nod to the rise of game streaming sites, Apple is also introducing device compatibility with Playstation and Xbox controllers. It's a lot of exciting stuff.
But for most everyday consumers who aren't lingering in iOS forums, software updates as an activity remain somewhere on the spectrum between tolerated and loathed. A 2016 study from researchers at the University of Edinburgh and Indiana University found that only one in five of the subjects asked could point to a story about a software update they liked.
Here are some of the big changes, "upgrades," or features in iOS 13 that seem the most likely to make you mad.
5. More Obsolescence Than iOS 12
In a move that seems pretty likely to annoy some folks, iOS 13 will ship to fewer generations of iPhone than its predecessor. Specifically, iOS 13 won't be compatible with the iPhone 6, despite the fact that iOS 12 was available on the iPhone 5S. Users who have a 6S or later will be able to upgrade, meaning you can still use the latest Apple operating system while also sporting an iPhone with a headphone jack. But enjoy it while you can, as this may not be the case next year.
4. Intrusive Call Alerts
Apple dealt with a common annoyance by drastically shrinking the volume indicator so that it takes up significantly less space on the iPhone's display. But it's maintained the somewhat intrusive call alerts that take up the entire screen. You don't have to do this, Apple. There's a better way!
3. More 3D-Touch Phase Out
Though it was not widely used or appreciated, 3D touch — where users could access near-hidden features like conjuring up a Safari preview by applying more or less pressure to the screen — long maintained a cult following.
Unfortunately for them, it looks like 3D Touch is being phased out as part of iOS 13's overhaul to the iPhone's gesture controls. Users will still be able to access the same functionality, however, through a new function Apple is calling Long Press. Unfortunately, this does mean that people with 3D Touch phones may lose out on some functionality, reported 9to5Mac. After all, a firm push is faster than a long push.
2. No ARKit 3 for Most iPhones
One problem with a particularly transformative iOS update? Not all of the updates will work on as many devices. And indeed, only people with the latest Apple hardware will be able to take advantage of the new ARKit, which supports a feature called People Occlusion. This feature allows ARKit to recognize up to three people at once, and place objects in front or behind them, whatever the artificial world demands. But these cutting edge features require cutting edge chips, and won't work on any iPhones released before the XS series last year, including the iPhone X.
1. Photos Overload
This one could go both ways, as there's a lot to like about how Apple has overhauled its photo editing and storage features. Starting in iOS 13, you'll be able to edit videos with the same automated adjustments as still images, and Apple also incorporated machine learning into its storage system to make it easier and faster to sift through your shots.
But the new photo storage system, in particular, will feel very different, and, as we've pointed out before, runs the risk of emphasizing style over substance. A photo storage system needs to offer utility, so that it's easy to find the photos you want. Autoplay video, Gifs of the best shots, and the like all seem like features you'd want in a digital photo album, which to be sure is how many people use the Photos app, as a place to go reminisce. But figuring out how to find that specific photograph without the grid will take some getting used to.
Indeed, that may be the biggest problem with iOS 13, that it went a little too far in re-working an operating system that everyday users will be overwhelmed. What happened to my old Reminders? Where'd my old photos go? These seem like likely scenarios for the iPhone customer that isn't tracking the iOS subreddits.
Fortunately, if you're worried about making the adjustment, you've got at least three more months to prepare.