The Apple Credit Card Will Drop in the Spring: Likely Perks, Pros, and Cons
It could be here every soon.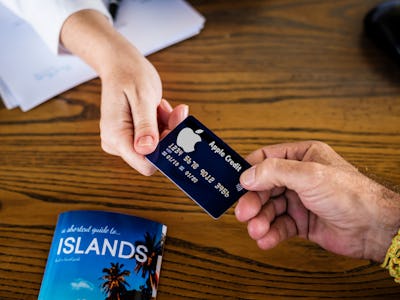 Unsplash / rawpixel
The world's first trillion dollar company and one of the most powerful financial institutions in the world are gearing up to roll out a new credit card: Apple and Goldman Sachs are reportedly getting ready to launch their joint credit card as early as the spring.
Apple and Goldman's branded credit card is expected to come with a rewards program and some iPhone financial tracking features enabled through Apple Pay, according to the Wall Street Journal which reported the news. Both companies are relatively new to consumer fintech — Goldman launched a consumer lending business called Marcus in late 2016, the same year Apple's began quietly building up Apple Pay. Neither is a huge player yet.
Apple's main source of income, iPhone sales have also begun to stagnate, and Goldman — whose banking clients have traditionally been governments and corporations — has long been trying to diversify its lending services to a wider consumer base. It's a match made in heaven: Tech-savvy iPhone owners are ideal lending candidates for Marcus's consumer loans, and Goldman Sachs is reportedly spending some $200 million to set up the payments infrastructure.
"This is a mainstream play for prime consumers or about half or more of the American adult population," Brian Karimzad, a founder of the personal finance site MagnifyMoney tells Inverse. "Goldman has been trying to get more mainstream folks on to a yet-to-be-created investment management platform, and the rewards here are a way to start building a relationship."
It's also in line with Apple's new subscription service strategy. A large portion of the company's hardware isn't pulling in the same money it used to, so it's turning to subscription services to make up for it. The company is expected to launch an entertainment-streaming service, a premium news service, and potentially a gaming platform. An Apple-branded credit card could be another step in the plan, plus it's offered similar products and services before.
Apple Pay takes a 0.15 percent transaction cut from the bank every time someone decides to pay with their iPhone. It also offers rewards through the Barclaycard Visa credit card, which Karimzad has called out as having some potentially predatory interest conditions. The new Goldman card seems a likely improvement, but Arielle O'Shea, a personal finance expert at NerdWallet, says the upcoming card could run into stiff competition in a crowded market, especially from the biggest bank in America.
"JPMorgan Chase has put a lot of work into luring millennial customers with its Sapphire Preferred and Sapphire Reserve travel cards," she tells Inverse. "Given that millennials tend to most value experiences and travel, they may continue to be attracted to travel rewards cards despite Apple's powerful brand."
Could Apple and Goldman's venture appeal to a large enough segment of consumers?
Apple Credit Card Perks
Unlike the Barclaycard, the new Apple credit card could offer 2 percent cash back on most purchases and possibly even more on Apple hardware and services, according to the WSJ. That's more generous than the Barclay's, which offers 3x points on Apple purchases, 2x points on restaurants, and no annual fee (while cash-back is more boring than paying for vacations using rewards, they also tend to pay off more quickly at lower levels of spending). But it also looks like Apple will try to make Apple Pay's technology one of the main lures.
The report cites anonymous Apple engineers who are working on accompanying card features, and they described what sounds a lot like Apple Watch fitness trackers, for your money. They've considered using the "fitness rings" visuals from the smartwatch that fill up when users achieve their daily workout goals. Apple's Wallet app could become like a financial health app that encourages users to pay off their credit card early and track their rewards.
But there are some likely cons, as there are with every credit card.
Apple Credit Card Drawbacks
The WSJ's sources don't specify exactly what the perks and rewards could look like, but hint that they won't be too remarkable, reporting that neither company is "eager" to leap into the credit card perks war. Apple's previous credit card perk program offers users a $25 Apple store gift card for every 2,500 points, which could require people to spend a couple thousand of dollars.
Karimzad also notes that there will also be potential drawbacks buried in the fine print, for example the sneaky deferring interest deals like the ones used with the Barclaycard.
"When you're looking at credit cards if it says '0 percent APR' then you can feel safe that this is not a deferring interest deal," he said. "Something more vague like 'special financing' is a red flag that what's being offered is interest free for a period but it has deferring interest if you don't pay it in full at the end of that period."
Apple Credit Card: How to Get One
Apple and Goldman are still fine tuning this idea, but the WSJ reported that employees will begin testing it in the coming weeks and begin issuing it this Spring. It's still too early to say how difficult the card will be to qualify for but, if the 2 percent cash back figure is to be believed, that would put it among the higher-end cards like the Citi Double Cash, which generally requires a score of 700 or higher, according to WalletHub.