Wiz Khalifa? NBA Finals? Virtual Reality Is Here with the Unattainable Tickets
Never miss the show of a lifetime.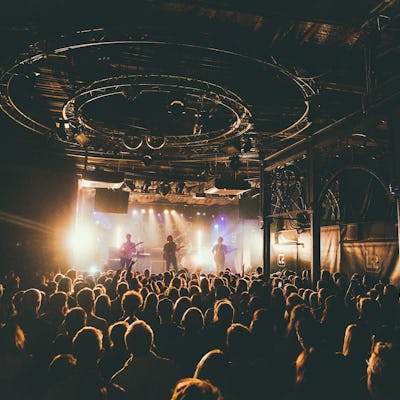 Unsplash / Joseph Pearson
By the tender age of 13, I considered myself to be quite a metal buff: I had already determined my favorite band, Avenged Sevenfold, live at the Vans Warped Tour. Unfortunately, my parents were reluctant to send their teen headfirst into a mosh pit. But after putting my head into the latest live event virtual reality apps using both the Oculus Go and Samsung Gear VR headsets, I'm already convinced that this particular form of teen angst will soon be a thing of the past.
Two companies have already made it their mission to take customers on tour with their favorite artist or get courtside with their favorite home team without having to set foot outside (or shell out thousands of dollars). For a subscription or access fee and the cost of a VR headset, MelodyVR and NextVR will teleport you from crowd surfing at a 2Chainz show to being ten feet away from Ariana Grande.
Steven Hancock, COO of MelodyVR, tells Inverse they could introduce a product that ensures the metalhead youths of the future won't miss out on the show of a lifetime.
MelodyVR: Bringing You on Tour
The first app Inverse tested was MelodyVR, an effort launched by former music industry types and technologists who have spent the last few years selling artists and record labels on the potential of VR while building their content library (they also needed to figure out how to unobtrusively shoot 3D footage at live shows). The result is an impressive an iTunes-like platform for purchasing VR live concerts (or individual songs a la carte). The service launched in earnest in May.
"Whether it's a sold-out show, the tickets are too expensive, a minor wants to see it, or an artist simply doesn't go on tour in a certain part of the world, we want MelodyVR to bridge that gap," MelodyVR's Hancock says.
As soon I pulled the Oculus Go headset over my eyes, I was struck by the attention to detail. The surreal, immersive white menu screen evoked the Memory Corridor from the Assassin's Creed franchise or the "Construct" in the Matrix.
The obvious difference was that instead of recreating my memories or summoning firearms, I could choose to jump into, say, a recording of an Imagine Dragons concert. MelodyVR has secured deals with three major record labels, giving users access to a plethora of pre-recorded performances and even private acoustic shows. But the best part about it isn't the wide selection — the app currently offers shows from 40 different artists ranging from Cyprus Hill to the London Symphony Orchestra — it's the views.
Indeed, our favorite part of MelodyVR was its 360-degree view that enables multiple viewing angles. This means you can toggle between hovering above the audience, standing on stage, and sitting front row. These are all perspectives that even the most seasoned concert-goer won't have access to at a single performance.
But can watching a pre-recorded concert in VR really replace the energy of actually attending a concert? Maybe not entirely – especially not the sweating – but MelodyVR is sure as hell trying. Throw in a pair of eardrum-busting headphones and a few plastic-cup filled beers and you'll feel a lot closer to a live music experience than you'd ever thought possible while chilling in your living room.
This year they also plan to launch a live-streaming service, that would virtually transport users to concerts as they're happening live. This way fans that couldn't make it to the venue don't have to wait for it to be uploaded onto the app. Down the line, they're going to begin letting users tune into live or past shows with their friends in an attempt to recreate the feel of a road trip to a concert.
NextVR: Taking You Courtside
But while MelodyVR is focusing on getting raving fans in front of their heartthrobs, NextVR is capitalizing on getting diehard sports fans in front of their idols.
MelodyVR can flex its deals with music labels, but NextVR has dominated the sports broadcasting field. The California-based company has partnerships with the NBA, NFL, the International Champions Cup, and yes, even the WWE to give subscribers a first-person view of some of the world's most exclusive sporting events.
Certain tickets to the NBA Finals cost more than what I would make in three years, but the NextVR app let me watch the final minutes of 2018's Game 4 from court side and right above the rim. As with MelodyVR, NextVR is also experimenting with ways to leverage the technology to give fans access they couldn't hope for otherwise.
After the game was done and dusted, for example, NextVR enabled me to follow the teams into their locker rooms. I got to watch LeBron James give a sullen interview and Stephen Curry pop a bottle of champagne, both of whom seemed like they were within a foot away from me. Normally you'd need to wait for a post-game interview to hear your favorite athlete's thoughts, but watching it in VR lets you see their emotions as they unravel behind the scenes.
This works for all of the sports NextVR has to offer, but there is still one missing detail that keeps this product from being as immersive as it could be: the lack of the 360-degree view. MelodyVR is already making headway toward giving its experience a sense of the crowd's energy, but no matter what angle you're looking at the court, field, or pitch you'll only be able to see a 180-degree camera angle.
That said, NextVR is trailblazing in live broadcasted games, while MelodyVR is still working to get this feature up and running. Last summer, NextVR offered a selection of live soccer matches to tune into during the International Champions Cup — a series of friendly club soccer games.
As VR technology becomes cheaper to access and companies continue to improve what they're able to capture and broadcast to users' headset, we could see a future where you can catch your favorite band on tour from your couch. This way, if VR ever becomes as ubiquitous as smartphones, every performance or sporting event would be just a click away.