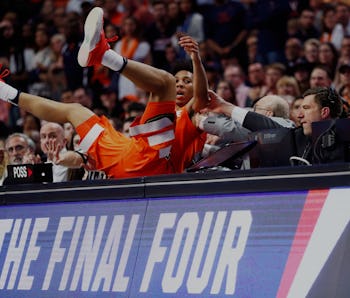 Innovation
Samsung Gear VR Will Put You Courtside for the NCAA Final Four
But it still won't fix your broken bracket.
Getty Images/ Jamie Squire
In case you don't have $4,320 lying around, but still want to get as close as possible to the NCAA's Final Four action, there's always VR. Samsung Gear users will be able to watch Saturday's Final Four games through the March Madness app in 180 degrees of collegiate basketball action.
If you're a Gear owner, you can download the March Madness Live app through the Oculus store. Games will have 180 degree views with the same audio commentary as the TBS broadcast, as well as a virtual scoreboard and options for 360 degree highlight reels after the game.
Sports franchises everywhere have been jumping on the VR bandwagon, including the Daytona 500. The March Madness brings in close to $900 million in revenue for the NCAA, who's always looking for new ways to bring its product to the masses. VR, once relegated to video games, is quickly finding a place in the entertainment and media industries, from journalism to augmented roller coasters. As 360-degree cameras and VR technology get more accessible, we can expect to see more and more live sports events broadcast to viewers who want more than a two dimensional viewing experience, without leaving their homes.
If you don't have a Samsung Gear, the NCAA will broadcast a 180-degree desktop stream to get the court side view without the headset. Semi-final coverage begins at 3 p.m. on Saturday, April 2, and the national championship game will air starting at 7 p.m. eastern on Monday, April 4.
One of VR's current issues is exposure. While it's widely known in the tech and gaming communities, developers are looking for ways to market the technology to a wider consumer base and break out of the niche product genre. Samsung's cornered the market on March Madness, but the NBA playoffs are still coming up in the next few months, and it wouldn't be surprising to see another major VR developer jump on a similar opportunity.