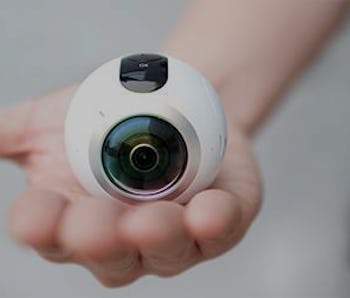 Innovation
Samsung Will Release Its Eyeball-Shaped Gear 360 Camera This Spring
Even Mark Zuckerberg is excited about the new device. 
Samsung
Samsung unveiled its Galaxy Gear 360, an eyeball-shaped dual lens camera capable of capturing 360 degree, virtual reality-compatible videos, at the Mobile World Congress on Sunday in Barcelona.
The splash-proof and dust resistant Gear 360 has much of the same appeal as GoPro, though Samsung has remained mum on its price, which is expected to be as much as twice the introductory GoPro's $129. The device is slated for a second-quarter 2016 release and will almost certainly be discounted as part of a bundling deal with the Samsung VR headset or the new S7. Oculus has already announced its own content-bundling offer.
Facebook's Mark Zuckerberg appeared on stage at the Samsung launch on Sunday to announce that Facebook users already watched more than 100 million hours of video every day on the platform. He also announced that Facebook will be bringing its "dynamic streaming" technology ("instead of delivering the whole video in a high resolution, we just focus on the part that you're looking at and this allows us to deliver the video with a much higher resolution and quality") to Gear VR in the "next few weeks."
The close relationship between Samsung and Facebook may come as a surprise considering they are technically competitors in the realm of virtual reality. Facebook's Oculus Rift, due to start shipping next month, with a price tag over $600 may be in a different price bracket than the $100 Samsung headset that relies on Samsung smartphones to function, but it's still unusual to find partnerships in the high stakes VR wars.
One of the VR's most pressing challenges is a lack of content, and Facebook and Samsung clearly hope that the Gear 360 will solve that problem by giving users the ability to shoot 360 video.
The most impressive video Samsung released reportedly recorded on the Gear 360 has the device strapped to someone "speed flying" down a snowy mountain. Assuming the device can hold up in such intense situations, it would certainly offer a new take on the now classic GoPro action videos. Samsung also put out videos of freestyle soccer juggling and a ballet class.