Oculus VR Founder on Pre-Order Madness: 'Wow, People Really Want Rifts'
Virtual reality goes on sale, and you'll have to shell out some very real dough.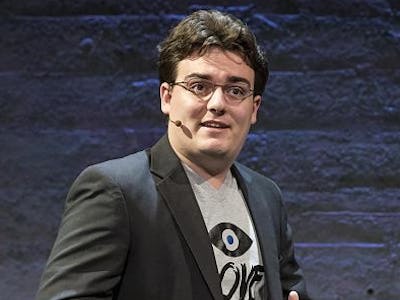 Twitter
Anyone — well, anyone living in 20 countries — can finally buy the Oculus Rift, as it went up for pre-order at 11 a.m. Eastern time today.
In the United States, it will cost you $599 (plus shipping) which is a hundred bucks less than the price of an Atari adjusted for inflation.
Nearly an hour after pre-orders became available Luckey shared his surprise at the brisk sales:
The Rift blazes the trail for high-end consumer VR — and it's blazing higher price-wise than what it was saying a year ago. On Wednesday, Luckey defended the price, saying it was relatively "obscenely cheap":
Although the sticker shouldn't be entirely shocking: The Samsung Gear VR is ostensibly $100, but its actual cost is closer to $600 when you add in the price of the smartphone that provides the display and hardware.
Of course, with the Rift, you'll also have to shell out about a $1,000 minimum for a computer to run the thing.
Getting into the online store took a little bit of patience and gnashing of anxious teeth, at least on Reddit:
This was the reason for the delays, explained Luckey on Twitter:
There were also questions about the price for non-U.S. customers, and Luckey seemed to respond to accusations that the cost was inflated for them:
After 10 minutes or so of refreshing, the rest was exactly like ordering anything anywhere else online with a credit card or PayPal. The Rifts were estimated to ship out in March but later orders today were hit with an April date, and will come bundled with games Lucky's Tale and EVE: Valkyrie along with an Xbox controller.
Pre-ordered Rifts will ship to 20 countries, including Germany, Japan, the U.S., the U.K., and Canada; a few noteworthy exceptions (at least considering their top-10 GDPs) are Russia, China, India, and Brazil. It's likely that government regulations about electronics imports in these omitted countries need to be cleared first, as Palmer Luckey said in response to a Twitter query why South Korea is getting left out of initial Rift orders.
Mark Zuckerberg (Facebook bought Oculus in 2014 for $2 billion) trumpeted the launch by saying: "When you put on Oculus, you'll feel like you instantly teleported into adventures like deep-sea diving, piloting a starfighter or playing in a band on stage."
We are one step closer to the world of everyone looking like doofuses.