Bitcoin Valued at $8,100 Following Tax Deadline
The cryptocurrency has jumped in value.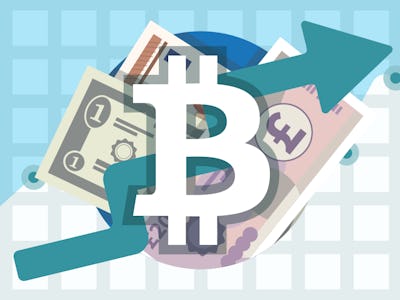 Descryptive / Flickr
Bitcoin is bouncing back. After a three-month slide that saw the world's largest cryptocurrency shed its December 2017 gains, the market continued to show signs of recovery on Tuesday as the price of a single coin passed the $8,100 mark. The jump represents a two percent rise over the past 24 hours, and comes just after the deadline for filing income taxes in the United States.
It was a big tax year for Bitcoin. As the cryptocurrency surged from its January 2017 price of around $1,000 to reach a value nearly 20 times larger by the end of the year, a slew of newcomers pushed the size of the total cryptocurrency market cap from $19 billion to $630 billion. That meant big gains for the taxman, as the Internal Revenue Service requires taxpayers to disclose all cryptocurrency transactions. With the deadline for filing taxes passing on April 17, Bitcoin has seen a small rise amid a wider market boost that saw 93 of the 100 largest cryptocurrencies make gains.
Cryptocurrency taxes are an immense issue to wrap heads around. Mario Costanz, CEO of tax filing solution Happy Tax and preparation service CryptoTaxPrep.com, told Inverse that the American tax code is "immense and full of potential pitfalls," with one issue being liability triggered through keeping an account on a foreign exchange. It's just one of the many areas the IRS imposes strong regulations. Costanz recommended speaking to a financial advisor about future transactions.
From here, many expect the market to rally. Dan Morehead, CEO of cryptocurrency hedge fund Pantera Capital, said last week that he expects Bitcoin to reach $20,000 in the next 365 days. Thomas Lee, co-founder and head of research at Fundstrat, said last week that he expects a high of $25,000 this coming year. David Drake, chairman and founder of investment firm LDJ Captial, predicted last month a rise to $30,000 this calendar year.
If current trends hold up for the coming year, the cryptocurrency market could see a similar small boost on April 15, 2019, the deadline for the current year's tax filing.
With the dust settled from regulations in South Korea and other markets, the future looks bright for Bitcoin prices.