The Samsung Galaxy S9 Stubbornly Still Has a Headphone Jack
The iPhoneX competitor was publicly unveiled just ahead of the Mobile World Congress in Barcelona.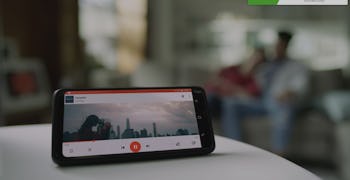 Samsung
Samsung launched its eagerly awaited S9 and S9+ smartphones today ahead of the Mobile World Congress, which starts tomorrow in Barcelona, and one of the many features to note was what hasn't changed: the S9 and S9+ still have headphone jacks.
Ever since Apple declared that the headphone jack was unnecessary with the iPhone 7, the march towards the analog port's demise has been speeding up. While Apple's decision was first mocked by competitor Google, it shifted gears when the Google Pixel was also released without headphone jacks. This was followed by Huawei Mate 10 Pro, also launched without the headphone jack.
This year, a number of other new cellphones are expected to launch at Mobile World Congress without that analog port either, including Sony's Xperia XZ2 and Nokia 8, as Inverse previously covered.
That makes Samsung's decision to keep the feature on the S9 refreshing — and great for audiophiles who don't have all that money to throw around on both a new S9 (price: $720 for the S9 and $840 for the S9+) and USB-C or bluetooth headsets, especially since their sound quality still tends to be pretty bad, despite the steep price.
Other cool features that the phone has: a Qualcomm Snapdragon 845 chipset promising 25 percent faster processing speeds; the Android 9 Oreo operating system; a fantastic new camera that works "just like the human eye" to "automatically adjust to lighting conditions"; increased augmented reality functions, including emojis; and an improved AI system, Bixby.
It's not just the headphone jacks that the S9 keeps from the previous model, the Galaxy S8, which was a pretty awesome phone. It has the same 4GB RAM, 3,000mAh battery, USB-C port, headphone jack, and 5.8-inch display.
So thank you, Samsung, for making an all-around great product and not getting rid of something (the headphone jack) just because you can, which seems to be the trend these days among other carriers.
Oh, and while we're at it, guess we should also thank you for not making a phone that explodes. That's also pretty cool.
The Samsung S9 and S9+ will be available for pre-order March 2, and available for purchase March 16.