Peter Thiel's People-Tracking Company Is In Deep With Trump's Military
Silicon Valley's Big Brother is one of the most powerful voices in the ear of Trump's Mad Dog.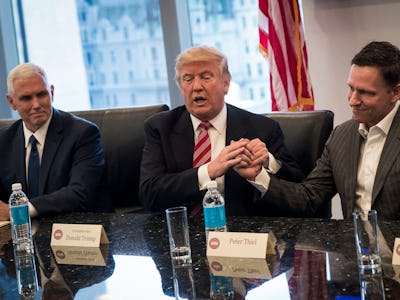 Getty Images / Drew Angerer
Peter Thiel is a controversial man in Silicon Valley and, to say the least, so is President Donald Trump. One could argue that both of them need a bit of image rehab, but instead the two seem to be intent on working together to reinforce their own most negative stereotypes. Thiel's Palantir Technologies is considered by some a real-life Big Brother in the making, and now it has been revealed to be sidling up to the Secretary of Defense, General James "Mad Dog" Mattis.
Politico's report went through multiple ethics disclosures that show, "at least three Pentagon officials close to Mattis, including his deputy chief of staff and a longtime confidante, either worked, lobbied, or consulted for Palantir Technologies". Thiel's company is already associated with some of the Trump administration's most divisive ideas, from travel bans to border walls, and now its style of business is starting to look distinctly Trumpian in its disregard for the optics of ethical conduct.
Palantir is a company that provides data analytical services — simple. That only becomes controversial because of the applications Palantir has pursued for these analytics, and the aggressively political messaging of its co-founder and public face, Thiel. Remember Trump's idea of foregoing an all-out travel ban in favor of "extreme vetting"? Palantir played a role. What about tracking illegal immigrants like tagged polar bears? Palantir again. Even back in 2013, the company's image was already so bad that it even had to publicly deny being responsible for the NSA's mass-spying PRISM program, which was revealed by Edward Snowden.
The company's reputation was actually first truly forged due to association with the U.S. surveillance state, when leaked documents revealed a plan to undermine Wikileaks and Glenn Greenwald's reporting on it. Palantir quickly disowned the idea, apologized, and (temporarily) suspended the employee, but the damage was done: In the eyes of many, Thiel was the libertarian devil, and Palantir was his bid to help the world's surveillance powers undo liberty and privacy for all.
As a result, many would just as soon have Palantir blackballed from all government contracts — but that's impossible now that the company has won a lawsuit alleging just that kind of exclusion by the Obama-era Army. With Trump now in power, it's not surprising that associates of a long-time supporter like Thiel would suddenly find themselves with friends in high places.
Yet, this week's reporting on Palantir's growing influence with Secretary of Defense Mattis is still uniquely worrying to those who fear Thiel's mentality about society, data, and the future. It's one thing when the military decides on its own that it needs to purchase the services of a company like Palantir, but quite another when Palantir could potentially have multiple influential boosters within the military itself.
It should be noted that the White House has directly addressed this worry. When former lobbyist Justin Mikolay become Mattis' special assistant, a statement from the Defense Department made it clear that it would take action "to ensure he would not participate in any matters that would have a direct and predictable effect on Palantir."
Which leads to the all-important question: if and when Palantir does do work for the military, what sorts of things might it do? There's actually a whole official document about what Palantir sees as its own role inside of active war zones. It shows that the possibilities are nearly endless, having to do with the company's stated aim of turning "massive-scale data from multiple intelligence disciplines into actionable insight".
That could mean crunching aerial footage of highway traffic to find candidates for smugglers' trucks or watching financial records to identify likely payoffs and terrorist money laundering operations, or watching communications metadata to find enemy hideouts through associations three or more times removed. These are all vitally important functions in a U.S. military with a chronic deficit of good intelligence — but also the sorts of abilities activists at places like the ACLU argue could destroy domestic civil liberties if misused.
Right now, there's really nothing opponents of these appointments can do to reverse them — they're certainly not illegal, all on their own. Defense contractors have a long-standing tradition of getting huge numbers of their former employees into government, and yet these former Palantir hires will ensure that Mattis has one of the most scrutinized military cabinets in modern history.
Read this: Why Hasn't Trump Mentioned Big Data Firm Palantir?