Leslie Jones Rejoins Twitter After Harassment Campaign
Facebook and Twitter both helped Jones deal with her abusers.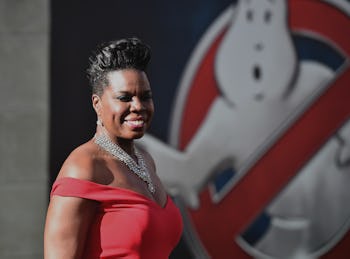 Getty Images / Alberto E. Rodriguez
If there's something strange, in your online world — who you gonna call? Well, if you're Ghostbusters star Leslie Jones and people won't stop harassing you online, the answer is Twitter chief executive Jack Dorsey.
Jones left Twitter after users compared her to Harambe, the gorilla killed in May, called her racist slurs, and used the platform to spew vitriol at her because she co-starred in a controversial remake of a popular film.
"I feel like I'm in a personal hell," Jones tweeted on July 18. "I didn't do anything to deserve this. It's just too much. It shouldn't be like this. So hurt right now." Then around midnight on July 19 she posted the following message, which many interpreted as her saying that she would permanently leave Twitter:
But now she's back! Jones appeared on Late Night with Seth Meyers on July 21 to discuss her return to the service. In the segment, Jones explained that she did not permanently leave that night. "What's scary about the whole thing is that the insults didn't hurt me, unfortunately I'm used to the insults," she said. "But what scared me was a gang of people jumping against you for such a sick cause."
"When I approached Facebook, they was on it. Twitter, I was on them. That's like my favorite restaurant — I love the food there," she said. "Three people just got shot in front of me. Y'all need to get some security." She said that she was able to communicate with Dorsey and cull a number of the accounts used to harass her, including a permanent ban of noted troll and Breitbart writer Milo Yiannopoulos.
That last ban has caused a bit of an uproar. WikiLeaks threatened to create its own Twitter rival because it viewed Twitter's actions as censorship and "cyber feudalism." Others have said that the ban represents an attack on freedom of speech. Jones addressed those concerns in the segment.
"I know a lot of people came at me with that, 'hey, you messed with freedom of speech,'" she said. "Hey, hate speech and freedom of speech are two different things."