WikiLeaks Accuses Twitter of 'Cyber Feudalism'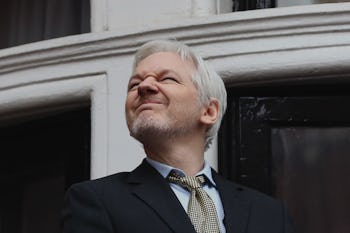 Getty Images / Carl Court
WikiLeaks is not happy with Twitter. On Thursday, the controversial watchdog organization threatened to leave the social network and create their own version of Twitter, with less banning and more freedom of speech (even if said speech is disgusting).
Wikileaks' beef with Twitter started after the social networking site permanently banned Milo Yiannopoulos, a Breitbart writer often associated with GamerGate who incited a campaign of harassment against Ghostbusters co-star Leslie Jones. Yiannopoulos had been repeatedly suspended from Twitter in the past for various abusive behavior, but after his racially-charged campaign against Jones, the site shut down his account for good.
"We will start a rival service if this keeps up," the organization said to Twitter chief executive Jack Dorsey in a tweet published on the afternoon of July 21, "because @WikiLeaks [and] our supporters are threatened by a space of feudal justice." WikiLeaks also said that banning Yiannopoulos was an act of "cyber feudalism," but didn't really clarify what that term was supposed to mean.
Confusing terminology didn't stop Dorsey from responding to WikiLeaks, however:
In a later tweet, WikiLeaks said that it wasn't defending Yiannopoulos so much as it was speaking out against what it viewed as censorship on a social platform, which it thought could set a precedent for its own publishing:
It's not immediately clear how WikiLeaks would build a service to rival Twitter, but doing so could have some advantages: The group might not, for example, have to worry about direct messages telling people to impersonate Google's Sundar Pichai and Facebook's Mark Zuckerberg being leaked. That would help avoid pesky ethical issues that come with advocating hacks.
There are, of course, ways to stop harassment on digital platforms without outright banning public figures. Reddit has introduced advanced blocking tools, for example, and while some have said that the tools could harm free speech, in reality it allows trolls to continue using the service while giving their victims tools to avoid their noxious posts.
In other instances, services like Facebook and Google have promised to delete hate speech from their platforms entirely. Twitter's permanent ban of Yiannopoulos comes closer to that approach. Still, Yiannopoulos received multiple warnings about harassing other users before he was banned. And as WikiLeaks has shown, it's not like the service is stopping people from supporting him.
This isn't an easy problem to solve. But pretending that Twitter banning someone for being one of the world's most notorious and harmful trolls means that it will also ban an organization that reveals government wrongdoing despite whatever else it might do is a bit of a leap. Trying to make those claims seem even more daunting by using nonsensical phrases like "cyber feudalism" is just facetious. And then threatening to leave and create a rival service is, well, meme-worthy: