WikiLeaks Tells Hackers to Impersonate Google CEO or Zuckerberg to Get More Data
In leaked Twitter DMs, Wikileaks gives advice to hackers who just finished attacking the site.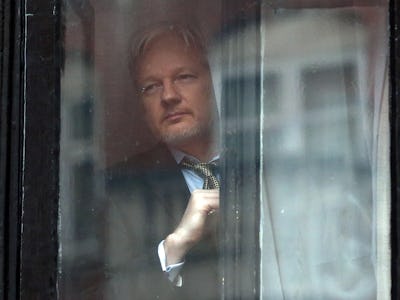 Getty Images / Carl Court
On Tuesday, WikiLeaks found itself subject to a two-hour DDoS attack by a hacker group that describes themselves as a security firm. Known as OurMine, the group has made quite a name for itself by hacking some of the highest-profile accounts in the tech world. Past targets include the twitter accounts Facebook CEO Mark Zuckerberg, Uber co-founder Travis Kalanick, and Google CEO Sundar Pichai, but after OurMine targeted Wikileaks on Tuesday, the official WikiLeaks twitter reportedly exchanged a few hot tips with the group that had just gone after them.
In screenshots of a direct message exchange obtained by Buzzfeed, the person speaking for WikiLeaks advises OurMine on obtaining information by impersonation. Wikileaks said that OurMine should have impersonated their previous targets, including Zuckerberg and Pichai, instead of attacking their site, calling it a "huge waste."
While most brand and big-name Twitter accounts are often managed by a separate social media or public relations person, it is widely believed that WikiLeaks' own Julian Assange is the person behind the account. As the exchange continued, the WikiLeaks representative suggested that OurMine should have used information obtained by impersonating their target in order to sell it to WikiLeaks.
WikiLeaks said that the information could be used to uncover more corrupt behavior within the targeted major tech companies, and given that Assange has never been especially fond of the folks behind Facebook or Google, this isn't particularly surprising.
OurMine has said in the past that their primary objective is to bring awareness about the businesses that make up some of the most powerful social media networks in the world. What makes this particular event interesting is how it came to be in the first place: after a Twitter spat with Anonymous back in December that OurMine claims continued in the form of harassment, OurMine allegedly took revenge on Anonymous by taking WikiLeaks down completely.