Changan's Self-Driving Car Completes Longest Ever Autonomous Trip Through China
The company is still miles behind its international competition.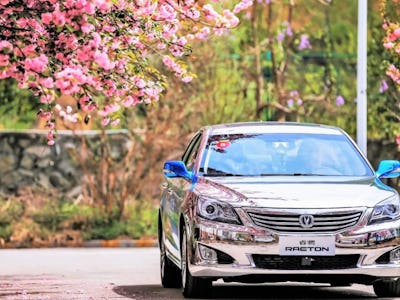 Chongqing Changan Automobile Co.
The first self-driving car to ever embark on a long distance drive in China finished its 1,200-mile journey on Sunday in Beijing. Six days ago, Changan Automobile, Ford Motor's Chinese partner, sent two of its Changan Raeton Sedans from the General Research Institute headquarters in Chongqing, a growing city in southwest China.
A caravan followed the two Raeton Sedans, which can handle single lane autonomous driving, cruise control, speed changes at traffic signals, and are powered with artificial intelligence, camera, and voice control technologies. The cars reached maximum speeds of about 75 mph during the trip. Changan Automobile has sold more than 10 million vehicles since the company's inception and became the first Chinese manufacturer to produce and sell one million Chinese branded vehicles within a single year. Conquering the self-driving car industry is the next plan.
The company wrote in an announcement about the 1,200-mile drive:
This Raeton test vehicle demonstrates Changan's strength and leadership among Chinese OEMs [original equipment manufacturers] in developing autonomous technology. This project's success signifies a technical leap from the traditional automobile to the smart automobile.
In other words, this achievement proves that Changan Automobile is a contender alongside big tech companies like Google and Tesla in the race for commercializing self-driving cars.
Google is aware that self-driving car programs in China, as well as Japan and Europe, are serious competition. Chris Urmson, Google's Self-Driving Car Project director, admitted during the Congressional Self-Driving Car Hearing in March that those companies are "hot on our heels." However, Urmson is firm in his belief that Google has the best engineers working on the project: "Not a day goes by that a company from China doesn't try to recruit our team and poach our talent. We need to see the economic benefits and others in America first."
It is true that other self-driving car projects have been driving autonomously over long distances and have accumulated more test-drive miles. Delphi Automotive, based in Gillingham, England, completed an almost 3,400-mile drive across the United States in March 2015 — starting from San Francisco, weaving through southern United States, and ending in New York City for the New York International Auto Show. Meanwhile, Google's self-driving car fleet averages around 10,000 to 15,000 autonomous miles per week on public streets and has accumulated about over 1.5 million autonomous miles as of March 31.
Changan has said it wants to build fleets of autonomous vehicles by 2020 and start commercializing as early as 2018. The company will use data collected on the trip to improve the performance of the cars.
"We want to improve the vehicles' sensors and processing technology, and then to prepare models for mass production," Tan Benhong, deputy director of Changan Automobile and the Research Institute, told China Daily.