Lowline Curators "More Hopeful Than Ever" Underground Park Will Become a Reality
The Lowline will be the world's first subterranean park powered by solar technology. Dan Barasch and James Ramsey just have to make it work.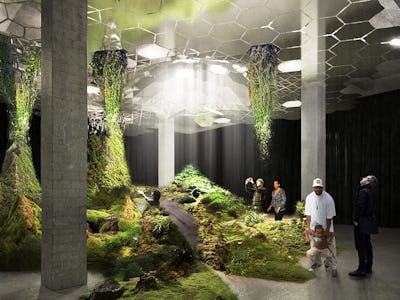 The Lowline / Flickr
Imagine basking under the soft glow of sunlight as it trickles through fiber-optic cables. You spy lush flora crawling down from ceilings and patches of green landscape. You're in an abandoned train tunnel. This is what James Ramsey and Dan Barasch want us to experience at the Lowline — an underground green space they want to cultivate at a trolley station underneath bustling Delancey Street on Manhattan's Lower East Side.
But right now, the Lowline team is testing how the technology and plants would fare at the Lowline lab, set up in a warehouse nearby.
"I am feeling more hopeful than ever that the Lowline will become a reality," Ramsey tells Inverse. "Since the lab has been operational, over the past six months, we've been able to test plant life to see what thrives in these subterranean conditions, as well as perfect the solar technology that is keeping them alive. It's an exciting time."
Ever since New York City's High Line opened in 2009 and became a destination for locals and tourists alike (attracting over four million visitors annually), people have been waiting for the highly anticipated underground iteration. It's become something of a cause célèbre. For instance, Lena Dunham appeared in a promo video released last year: "There's something really sort of appropriate to the spirit of New York about having a park underground, about using every inch of our space," she says. "The idea of being able to create a sunlit, verdant atmosphere underground — there's something so surreal and it really feels like, 'OK we are really living in the future and the future is now.'"
The "future" is coming, in spite of how sci-fi it might have seemed just a few years ago. Ramsey told The New York Times back in 2011 the Lowline idea was "a little perverse, a little like science fiction."
Today, he's more confident about the enterprise "What started as a crazy idea eight years ago, might just turn out to be the world's first underground park," he tells Inverse.
Transforming old structures into parks has become increasingly popular as buildings and spaces outlive their original uses: As Washington D.C. is working on its first elevated park on the old 11th Street Bridge and some propose that Manhattan's Tappan Zee Bridge should become a walkway and green space. The Lowline is no exception.
Here's everything we have learned so far about the Lowline park:
What is the Lowline?
The Lowline will be the world's first subterranean solar garden. Ramsey, an architect and former NASA satellite engineer, is working with engineers in his own New York-based Raad Studio and Korea-based technology company Sunportal to install a fiber-optic, solar system that will illuminate the park in sunlight. The "solar canopy" allows a diverse species of over 3,000 plants to grow. The parabolic collectors harness light from unobstructed points all along Delancey Street on the Lower East Side and funnels it through a network of fiber-optic cables down to the park.
The Lowline team partnered with the Brooklyn Botanical Garden, landscape architect Signe Nielsen, and Dirtworks to design the park's unique landscape that looks like an "island of many hills" and fill it up with various kinds of vegetation.
Where is it going to be?
Ramsey heard about the lost subways of New York from an MTA engineer, and found out about the abandoned trolley terminal below Delancey Street on the Lower East Side.
The station began operating in 1908, the cars carrying passengers between Brooklyn and Manhattan until 1948. The proposed site will occupy a space the size of a football field spanning three blocks under Delancey Street between Essex Street and the entrance to the Williamsburg Bridge. The running JMZ subway lines at the Essex Street station is right next to the proposed site, so park visitors and subway riders would meander through the space daily.
Why was it created?
The Lowline team believes the space is not just a park, but a creative way to transform a public area in a crowded city. It blends historic elements of one of New York's old trolley stations, modern landscape architecture, and solar technology. The Lowline writes, "we envision not merely a new public space, but an innovative display of how technology can transform our cities in the 21st century. And along the way, we intend to draw the community into the design process itself, empowering a new generation of Lower East Siders to help build a new bright spot in our dense urban environment.
When can you roam this awesome underground park?
The Lowline Lab — a prototype of the actual park — opened back in October 2015 and currently serves a community gathering space and laboratory for horticulturists.
The lab is at an abandoned market on the Lower East Side on Essex Street, just a couple blocks from the proposed location for the real Lowline. Landscape architects and scientists will continue developing and showing the lab for two more years. It's completely open to the public on weekends and for special events and talks.
The Lowline team commissioned HR&A Advisors, the same consulting firm that helped with the High Line, and their report estimated the park would cost between $44 to $72 million.
The official opening of the Lowline is still scheduled for 2020.
"There is a lot of support for the project now, from the grassroots level all the way up the political chain," Ramsey told Inverse. "We've been able to win over political and public support because the science is real."