New York City's Next Public Park May Rise Underground
A group is crowdfunding an idea to create a lush, sunlit public space beneath the city's streets.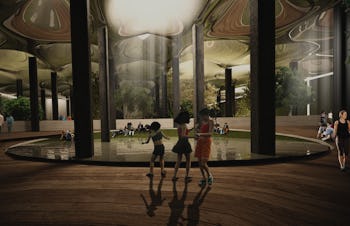 www.thelowline.org
You've heard of the High Line, but what about the Lowline? A group is starting their second campaign on Kickstarter to bring to life the world's first underground public park in New York City, and if they're successful, it could be one of the world's most amazing subterranean space.
The project's initial plans were successfully crowdfunded in 2012. Now the Lowline team is looking for help funding the Lowline Lab, a small public space that will put the new technology they've developed to practical use in making an underground park feasible. If all goes according to plan with the hands-on side of the tech, the idea will eventually be presented in a proposal to the City to approve the project.
To turn the area into a lush green park, the team will use solar technology that follows the natural path of the sun on nearby rooftops to bring the sunlight from above ground to the foliage below. The light will shine on optical systems above and be reflected by strategically placed mirrors to street-level mechanisms. Those will shine the light through tubes called irrigators that will direct the sunlight throughout the underground park.
The Lowline will be housed in the former Williamsburg Bridge Trolley Terminal, a 107-year-old disused station the size of a football field below Delancey Street on the Lower East Side.  
To fill the space with life, the Lowlife team has partnered with horticulture experts at the Brooklyn Botanical Garden and landscape architect Signe Nielsen and Dirtworks, who were inspired by the pre-civilization island of Mannahatta, the Native American name meaning "island of many hills." 
It sounds like a trippy idea, but if they can pull it off it'll get our vote as the most innovative way to expand New York's green space, perhaps ever. If their goal is met they plan on opening the Lowline Lab from September of this year through February of 2016 to gauge how to expand it to a park-sized area. You've surely sunk your money into worse holes than this. Give if you got it.