Twitter CEO Jack Dorsey Promises More Video, Live Events, Less Confusion
Twitter continues to attract new users.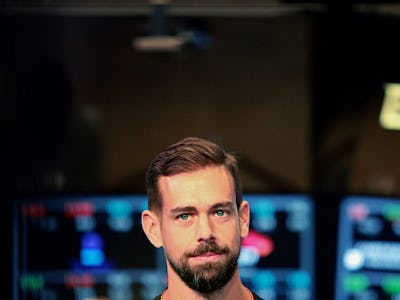 Yana Paskova/Bloomberg via Getty Images 
Today, Twitter CEO Jack Dorsey said that this year the company will focus on its strength — becoming the gathering place for commentary during events like the Super Bowl and the Oscars.
Twitter's goal is to attract new users after fourth-quarter numbers showed they had 320 million users, which were flat with the previous period and just 9 percent higher than the last quarter of 2014. Analysts had predicted that number to be about 325 million.
Here's how Dorsey wants to do that: Keep expanding what Twitter is by offering users the opportunity to live stream to their accounts, and to keep them engaged by fixing the "weird rules [for conversations] that nobody understands." With its replies and conversations, it's well-documented that Twitter can be kind of … "complex."
Dorsey said his main focus will be on recruiting engineers, product managers, and designers with experience in finance, media, and international relations. Oh, and that annoying Timeline algorithm — he'll make that better.
Wednesday's fourth-quarter earnings call comes during a tumultuous time for the company. Since founder Dorsey returned to Twitter to be its CEO last year we've seen him flip the company upside down — bringing in new employees while longtime ones leave, introducing or announcing a number of surprises for users — including those that might push them away — like expanding the definitive Twitter 140 character limit. Over the past week, news of an algorithmic timeline's arrival to the service has driven people crazy (but guys, you can turn it off.)
In January, Twitter went down at least four times and five of the company's top executives resigned. With a decrease in audience in the final quarter of 2015, and a return to normal levels this January (with no rise), everyone wants to know what their plans for the future hold.
So here they are: Video. Twitter wants global or national events like presidential debates or the Super Bowl to cause users to live-stream their thoughts on its Periscope app that streams video from within the timeline. Twitter has more than 225 TV partners in 25 countries to provide premium content around the world, and marketers who integrate tv and twitter can double their returns, according to Dorsey.
Dorsey also said on Wednesday's investor call that the company wants to give users the "fastest way to get back to live without missing any of the messages you want to see," which means changing Timeline algorithms. With "while you were away" tweet notifications — launched a year ago — users saw relevant tweets in no particular order. But today you can opt out of that for something more recent on the Timeline: Tweets that happened while you were gone are still relevant, but seen in reverse chronological order. The idea is that when you're done, you can do a quick refresh and "get back to live right away," said Dorsey.
Here's a quick overview letter, and you can listen to the entire call on Twitter's website.