Parenting Data Show That 52 Percent of Fathers Have Been "Daddy Shamed"  
"Being engaged and involved is the best thing they can do."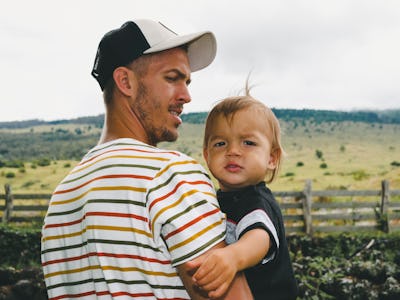 Unsplash / Derek Owens
With Father's Day on Sunday, it's the time of year when we recognize all the things dads do — from passing on 50 percent of our genes to forsaking stereotypes and becoming more involved in childrearing. But some dads are finding that their parenting styles garner criticism worthy of the cast of Big Little Lies. According to research published Wednesday, over half of American dads report that they've been "daddy shamed."
For a long time, family members — and even strangers on the street — have thrown parenting shade at mom. The June 2017 results from the annual National Poll on Children's Health from C.S. Mott Children's Hospital, for instance, showed that 61 percent of moms face criticism about how they raise their kids.
The latest results from the poll, which collects nationally representative data from roughly 2,000 US households, suggests that many dads are now experiencing the same. Fifty-two percent of fathers in this analysis experienced "daddy shaming," according to poll co-director Sarah Clark, M.P.H., of the University of Michigan. Forty-three percent of those dads believe that the criticism is often or always unfair.
Why Dads Get Shamed
"Daddy shaming" might be well prescribed for the likes of notorious bad dad Tywin Lannister, but for most well-intentioned fathers, this unnecessary criticism may impact confidence and affect how they go about the important job of parenting.
The results of the poll indicate that dads are criticized for four major parenting behaviors. The largest portion of dads — 67 percent — received critiques of their discipline styles. Forty-three percent received criticism about nutrition, 32 percent were disparaged for not paying attention, and another 32 percent for being too rough.
Altogether, America's dads seem to be taking the criticism pretty well, says Clark, noting that 49 percent of those who felt criticized responded to it by adjusting their behavior. But others took the hit a bit harder, with 19 percent of dads saying that the criticism made them want to be less involved with their kids.
Constructive Criticism vs. Accusation
The crucial difference between seeing criticism as constructive or as accusatory has a lot to do with who is doling out the advice, Clark says. According to the data, it's most often the other parent who is doing the bulk of the criticizing. In the study, 44 percent of dads reported criticism from the child's other parent.
"If parents are supposed to 'be in it together', then criticism from other parent can be very destructive."
"Here's the thing: When the source of criticism was the child's other parent (versus grandparents, friends, professionals, or strangers), the dad was more likely to have a negative emotional response," she says. "That makes sense to me! If parents are supposed to 'be in it together', then criticism from other parents can be very destructive, because it disregards and dismisses the effort that the dad is making."
A more societally based driver of daddy shaming, however, is how people outside the parental unit perceive dads' parenting styles.
Eleven percent of dads surveyed said that their childrens' teachers assumed they were unaware of their child's needs or behavior, and 23 percent felt like they were excluded from communication about their kids' actions. Taken together, it appears that some dads are frustrated by the assumption that they adhere to the Homer Simpson method of parenting.
Shifting Gender Roles
Many are taking a deep interest in childrearing even if they're not traditionally expected to, explains Clark. "Some people still believe that traditional gender roles (for example, moms should do most of the parenting) are better for children," Clark explains. "This belief presents itself in assumptions that fathers are less capable, less knowledgeable, and less involved as parents."
Pop culture has given some dads a bad rap — and forgiven them for it. For every good TV father like Phil Dunphy, there's a Drake, or a George Bluth, Sr. — men who hide their children from the world or discipline them with traumatic lessons.
Although mommy shaming may be slightly more common, daddy shaming may be the opposite side of the same coin. When there are two parents in a family, they must work together, says Clark; the assumption that dad is either doing it wrong or is completely clueless can undercut his confidence. That's not to say that all criticism is bad, but for involved dads, Clark hopes they can learn to take it in stride.
"They can shrug off the criticism, knowing that being engaged and involved is the best thing they can do."