Who Pushed Perry on 'Big Little Lies'? Everything to Know for Season 2
All the big reveals you need to remember from the Season 1 finale.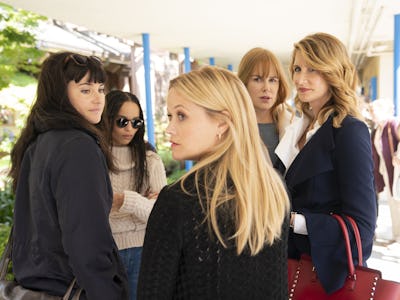 HBO
HBO's Big Little Lies Season 2 begins tonight, but if you haven't rewatched Season 1 since it first premiered in early 2017, you might have a few questions. Most importantly: Who pushed Perry? The biggest mystery of Big Little Lies Season 1 wasn't solved until the last episode, and Season 2 picks up soon after with the murder of Alexander Skarsgård's character still largely unresolved.
Need a quick refresh on Big Little Lies Season 1? Here's everything you need to know about how pushed Perry and why. (This should go without saying, but spoilers for Season 1 ahead.)
The final episode of Big Little Lies Season 1 mostly takes place at a party hosted by the elementary school where all the parents dress up as Elvis and Audrey Hepburn, sing Elvis karaoke, and drink too much. This provides the spark to light the powder keg that is Celeste and Perry Wright's (Nicole Kidman and Alexander Skarsgård) abusive relationship. But his killer still comes as a shock.
Before the party begins, tensions are already high between the married couple. Celeste tells Perry she's leaving him. Be begs her not to before admitting that he never signed up for therapy like he said he would. Then, at the school, an upset Celeste pulls her friends — Jane (Shailene Woodley), Madeleine (Reese Witherspoon), and Renata (Laura Dern) — aside to talk to them.
Suddenly, Perry shows up to grab his wife. When she says no, he gets aggressive, which causes Jane to realize that Perry was also the mysterious man who raped her years earlier and got her pregnant.
Perry starts attacking his wife in front of the other women, and her friends aren't able to stop him. Then, Bonnie (Zoë Kravitz) runs in after seeing it happen from further away and pushes Perry down a set of concrete steps, killing him almost instantly.
Afterwards, when the Monterey police investigate Perry's death, the other four witnesses all cover for Bonnie. They tell the cops that Perry fell down the stairs by accident.
Big Little Lies Season 2 shows the "Monterey Five" grappling with the death, particularly Celeste, who misses her husband despite the fact that he physically abused her; Bonnie, who actually killed him; and new cast addition Meryl Streep (as Perry's mother Mary Louise Wright), who refuses to believe that her son was an abuser.
So here's the tl;dr: Bonnie killed Perry, and Perry is Ziggy's dad. Both of these reveals will play a key role inBig Little Lies Season 2, so keep them in mind as you watch.
Big Little Lies Season 2 airs Sundays at 9 p.m. Eastern on HBO.