Ferrari Chairman Sergio Marchionne Loves Tesla CEO Elson Musk
"I love him." – Sergio Marchionne on Elon Musk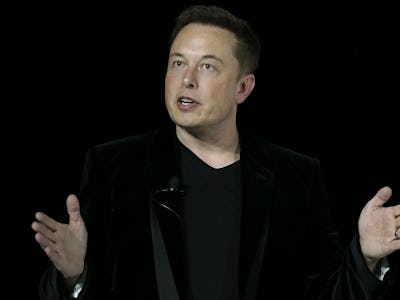 Justin Sullivan/Getty Images
As part of the Ferrari's debut today on the New York Stock Exchange, Sergio Marchionne, chairman of the Italian supercar maker, went on CNBC for an interview, during which he declared Elon Musk, "a disrupter and…a greater marketer."
"I love him," Marchionne added.
Marchionne's ringing endorsement is significant because Musk's Tesla is beginning to make even bigger waves in the auto industry. Tesla recently released its "Autopilot" software for download, which can turn Tesla's Model S into a self-driving vehicle.
Even more pressing for Marchionne, though, is Tesla's electric offerings, which include the brand new Model X.
In addition to his role as Ferrari Chairman, Marchionne is also Fiat's CEO. As a manufacturer of electric cars, it certainly behooves him to get on Musk's good side as Tesla continues to gain ground in the field.
Marchionne was spot-on with his compliments. Vanity Fair today published a feature on Musk and his family that details his adolescent entrepreneurial drive. As Emily Jane Fox writes, once the young Musk (with his brother and cousins) determined that chocolate Easter eggs were more expensive than regular chocolate, he just melted chocolate and reformed it into eggs. They sold those eggs for more than the stores because purchasing from them "would mean the buyer was supporting young capitalists."
Ferrari is essentially a synonym for "nicest car in the world," but with electric and self-driving options, Tesla is coming in as Musk's fancy new Easter egg. Even Ferrari's Chairman seems to know it.