Volkswagen Takes On Tesla With $3.7 Billion Electric Car Plan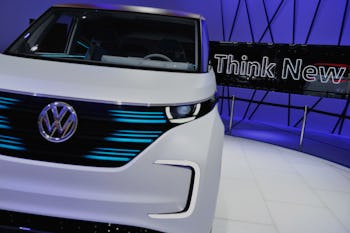 Getty Images / Harold Cunningham
Volkswagen unveiled plans to take on Tesla in a fight for the future on Friday, announcing a radical restructuring that will cut up to 23,000 jobs in a radical bid to shift towards electric vehicles. Over a four-year period, the company intends to reposition around a "pact for the future" that includes developing a pilot plant for producing battery cells, a mass investment in new technologies and a shift in German plants towards making electric car components.
It's fair to say Volkswagen is taking electric cars seriously. The company is planning to invest €3.5 billion ($3.7 billion) in the plan, aiming for a four percent increase in productivity by 2020. The plants in Wolfsburg, Zwickau and Emden will produce vehicles based on the modular electric drive kit (MEB). The first concept car based on this kit, BUDD-e, was a zero-emissions electric van aimed at giving a glimpse into the vehicles of the year 2019:
The company defended the job cuts by claiming that 9,000 new jobs focused on future technologies will be created. "The most important news is that the workplaces of our permanent workforce will be safeguarded," said Volkswagen's general work council chairman Bernd Osterloh in a statement. "We have agreed that compulsory redundancies are to be excluded up to the end of 2025."
Volkswagen is pushing forward into a sector that hasn't been too receptive in the past. The 2015 emissions scandal, where company vehicles were found to produce far more pollution than previously thought, tarnished the brand and resulted in one of history's worst public relations scandals.
At the time, Tesla CEO Elon Musk joined other tech leaders in an open letter to the California Air Resources Board, declaring that Volkswagen should speed up its zero-emissions timescale rather than spend billions on fixing old cars. The scandal did result in a new proposal to get 30 electric car models on the road by 2025. Friday's announcement shows that Volkswagen is deadly serious about jumping in, and isn't afraid to take large restructuring steps to make it happen.