Elon Musk's Neuralink Brain Implant Approved for Human Trials in the US — Is It Safe?
The company says it's working on "giving people with quadriplegia the ability to control their computers and mobile devices with their thoughts."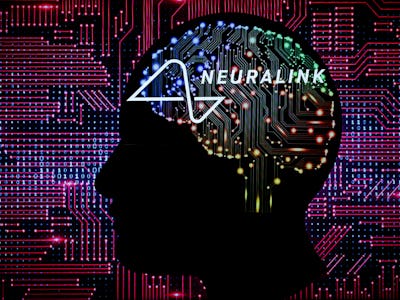 NurPhoto/NurPhoto/Getty Images
Elon Musk's brain implant company Neuralink received the green light from the United States' Food and Drug Administration (FDA) to conduct clinical trials in humans, according to an announcement posted to Neuralink's Twitter account on May 25. The company hasn't started recruiting participants yet but claimed it will announce more details soon.
For now, the company says it's working on "giving people with quadriplegia the ability to control their computers and mobile devices with their thoughts."
The company says people can use the device to control different types of technology, like a computer, by thinking. The implant sends their brain signals via Bluetooth to a computer, which then translates their intended action into tasks on a computer.
But Musk has also said that he eventually wants to offer a device for the general population — to help us keep up with rapidly advancing artificial intelligence tools.
"On a species level, it's important to figure out how we coexist with advanced AI, achieving some AI symbiosis, such that the future of world is controlled by the combined will of the people of the earth," Musk said in a 2020 livestream. "That might be the most important thing that a device like this achieves."
In its bid to revolutionize brain implants, Neuralink has encountered quite a bit of controversy. The company already applied for FDA permission for human testing last year, but the agency pointed out "dozens of issues" with the product, Reuters reported. For example, Neuralink incorporates a lithium battery that can be charged remotely. But if it fails, it could damage brain tissue. It's also possible that the implant's wires could travel to other parts of the brain or harm tissue when it's removed.
And animal testing hasn't gone swimmingly. Last year, the company faced a federal investigation over potential mistreatment of animal subjects — the U.S. Department of Agriculture is now looking into claims that Neuralink rushed testing and caused "needless suffering and deaths" among pigs, sheep, and monkeys, Reuters reported.
Oh, and that's not the only government probe: The Department of Transportation is checking whether Neuralink illegally transported dangerous pathogens on chips extracted from monkey brains without the necessary safety measures.
And given Twitter's spotty record with data safety, it isn't clear how Neuralink will handle people's precious brain data. The company didn't respond to The Guardian's request to learn more about these plans.
If you're hoping for a brain-computer interface device in the coming decades, you will probably have additional options to choose from. Neuralink is just one of over a dozen companies working in this field, and New York-based Synchron has already tested its products in a small trial that recruited patients with severe paralysis.
According to a paper published in January, the company didn't report any serious side effects. Synchron did kill about 80 sheep in animal testing, but that pales in comparison to the roughly 1,500 animal deaths at Neuralink's lab since 2018.
Now, only time will tell whether Musk's implants prove safe in humans — or if competitors win out.