Why the Antidote to Heartbreak May Lie in the Power of Stories
The end of a relationship doesn't have to cause you long-term harm.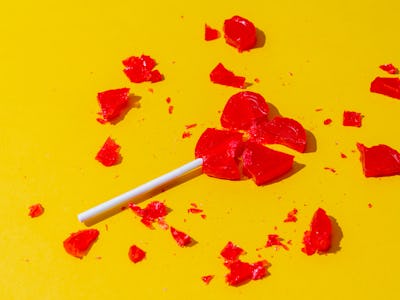 In their introduction to the book Supergods, comic book writer Grant Morrison says, "We live in the stories we tell ourselves." We use superheroes as avatars for our fears, longings, and aspirations. But the sentiment is also a pretty good description of how we process breakups.
"A very important part of adapting to a breakup is to make some meaning from the experience," explains David Sbarra, a professor at the University of Arizona who researches social relationships and health.
You don't need to walk away from a relationship with some sublime epiphany. But his research suggests it can be helpful to have a narrative of some kind that allows you to accept the situation. You may realize that you would rather be alone than with someone who doesn't love you. Or simply that it just wasn't meant to be.
Most people will, at some point, go through a breakup. They suck, and the experience can leave you with a Royal Flush of bad emotions.
But the immediate aftermath doesn't have to cause you long-term harm. Experts say it is possible to have a healthy breakup — even if it doesn't feel great. To get there, you may need to let go of some preconceived ideas about how a breakup should feel and embrace lessons and stories that promote self-growth.
What we get wrong about breakups
It's true that breakups are linked to poor mental health. Stress, depression, and an overworked brain can all follow the dissolution of a relationship. But a common misconception is that this is a linear cause-effect relationship, explains John Oliffe. Oliffe is a professor at the University of British Columbia and the founder and lead investigator of the university's Men's Health Research Program.
Oftentimes, people experience mental health issues before and independent of relationships and breakups. "The break-up might be a lever — but there are often many other contributors to mental health challenges," Oliffe says.
This, in part, can explain why one action can be key to a healthy breakup: Avoid blaming the ex-partner and focus on self-growth. It's less fun than complaining about them over a bottle of wine with a friend, but it's more helpful.
Key to a healthy breakup is your mindset, explains Sbarra. The pain is real, and the grieving is real — you should exercise some mindfulness and allow yourself to experience these strong emotions.
"The opposite of that is becoming entangled in the pain," he says. This is what can cause suffering.
In turn, you also shouldn't ignore your needs and "tough it out" if things aren't getting better, Oliffe says. Breakups are complex, emotive, and full of challenges.
How to recover from a breakup
In a paper published in the journal Qualitative Health Research, Oliffe and colleagues examine how men process breakups and what leads them to seek help for any negative emotional consequences. The paper's subject reflects a stark finding: Men who separate from a partner may be up to 8 times more likely to die by suicide compared to women who separate.
"We looked at men's break-ups with the hope of getting upstream toward suicide prevention by helping men build better relationships," Oliffe says.
His team interviewed 47 men who had experienced a separation, divorce, or breakup. The duration of the relationships described ranged from 4 months to 28 years; 49 percent of the break-ups were partner initiated. Nearly half of the group shared that they've experienced suicidal thoughts; more than half experienced mild to severe depression. They shared how they felt after their relationship ended and their strategies for moving on.
Certain themes emerged, namely, that the men most able to experience a positive, personal transformation after the breakup were those who sought to understand their experience, learn from the pain, and change the negative behavior they brought to the relationship.
This suggests that narrative therapy could be especially helpful for people looking to cope with a breakup, Oliffe says. This type of therapy connects to the idea that people use their life stories as tools for meaning-making and helps people deconstruct their problematic narratives. The goal is to move toward healthier storylines and accept that what's true for one person may not be true for another.
"We can ruminate on particular narratives that are unhelpful," Oliffe says. "These can be unhelpful for making the transition out of the relationship because guys can get stuck in retrospectives."
These can manifest in victim narratives, regret narratives, and the like. Narrative therapy, meanwhile, can "interrupt those storylines to free guys to think more proactively and draw lessons from the relationship and the breakup," Oliffe says.
Narrative therapy wasn't created to be a "breakup therapy" — there is no specific breakup therapy, Sbarra explains — but the reason why it works extends to this situation. Similarly, expressive writing wasn't initially explored as a way to process romantic love's end, but it works too: Research suggests this type of journaling increases well-being and prompts needed cognitive processing. One study found that when people focus their writing on the positive aspects of the breakup, it works even better.
Sbarra's research also suggests reflecting on a breakup can help the healing process — if you avoid rumination. Healthy self-reflection often has a distanced element to it, whereas rumination is a repetitive process that involves an over involvement in one's experience. This distance, Sbarra explains, is critical for reorganizing thoughts and feelings.
"We have studied how people recover from a breakup, and one thing we've found is that people who accepted the experience can speak about it — even the painful parts — in a way that does not provoke strong emotions," he says.
This may sound like: They were my first love, but we couldn't make it work. There may still be some regret, but it will pass. The story may hurt a little, but it can help too.
If you or someone you know is experiencing suicidal thoughts, call or text 988 to contact the 988 Suicide & Crisis Lifeline, which provides free 24/7 support. You can also reach out to the Trans Lifeline at 1-877-565-8860, the Trevor Lifeline at 1-866-488-7386, or to your local suicide crisis center.