If You Feel Sick, Do You Still Need To Test For Covid-19? Experts Say There's One Easy Answer
Understanding what you're sick with means you can receive the correct treatment.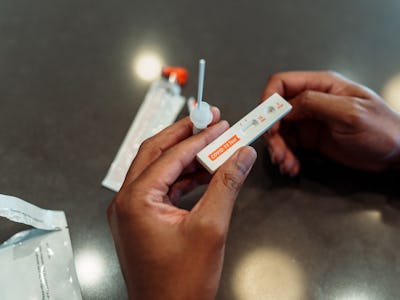 Fly View Productions/E+/Getty Images
A cough here, a sneeze there, some congestion, and a little brain fog. Might as well assume it's Covid-19, right? After all, we've known for weeks now that hospitalizations from the infection are ramping up again, and tests aren't free anymore. It's all the same if you're going to stay home from work, anyway. (You are staying home from work, right? If there's any single thing we got from 2020, let it be that you should stay home when you're sick if you can.)
Though it still feels like high summer in some parts of the U.S., autumn temperatures are actually coming in. Flu season — and soup mode — are nigh. And flu season isn't just the flu anymore. It's influenza, Covid-19, and respiratory syncytial virus (RSV), a common illness that causes cold-like symptoms. These three viruses share symptoms to a degree, but how important is it to confirm which one you have? Is it safest to simply assume you have Covid-19 and treat it as such?
According to Lawrence Stanberry, a pediatrics professor focusing on global health at Columbia University, there's still good reason to test for which of these three fall viruses you might have. He says that in some places, like New York City, it's pretty safe to assume you've got Covid-19 if you feel under the weather. "There's not a lot of other viruses circulating at the moment" in NYC, he tells Inverse. It's those other parts of the country with cooler temperatures where the so-called tripledemic is more of a wild card.
These three viruses all affect people differently. Stanberry says that RSV is most dangerous to infants under 6 months and elderly people, but otherwise isn't a risk so much as a very bad cold. Influenza is another beast. The Centers for Disease Control estimate that between 2010 and 2020, as many as 52,000 deaths occurred from the flu. Covid-19, as we all know, is a threat to be taken seriously.
"If you're somebody at risk, if you've got comorbidities if you're old, then you should be evaluated by a physician or healthcare provider and put on the appropriate medication," Stanberry urges.
The flu and Covid-19 both have antiviral medication as well as vaccines; the latest iteration of the Covid-19 booster was approved on Monday by the Food and Drug Administration (FDA) and will be available any day now. Understanding what you're sick with means you can receive the correct antiviral. On the other hand, there's no antiviral for RSV, and its first vaccine was approved by the FDA this past May. While that's arguably the virus of least concern for most healthy people, it's probably best to know you don't have Covid-19, so you're not taking Paxlovid for no reason. It does vastly lessen symptoms and reduce the risk of hospitalization, but also brings minor reactions that probably won't seem worth it if you don't actually have Covid-19. The FDA emphasizes that currently approved influenza antivirals don't have much effect on Covid-19, so don't assume they're interchangeable.
If you're not high risk and you're fully immunized against the flu and Covid-19, then discerning the virus is less urgent. What's most important is that you monitor symptoms and stay away from any people for whom a virus could be a big problem.
Plan to get your flu and Covid-19 vaccine as soon as possible. If you have any autumn or winter plans to look forward to, make sure you've received your Covid-19 booster at least three weeks ahead of time. If the tripledemic is an autumn mainstay, we all need to learn the best way to navigate it.