How to Talk to a Grieving Person, According to a Funeral Director
"We need a new generation of funeral professionals."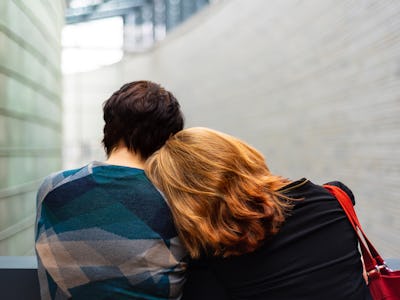 Unsplash / Toimetaja tõlkebüroo
This week, we're talking with Louise Winter, the funeral director and founder of Poetic Endings, as well as the co-director of the initiative Life. Death. Whatever. Poetic Endings is an award-winning green and modern funeral service in London. Winter defines a "modern funeral" as a funeral that caters to the needs of the bereaved and also honors the person who has died in a thoughtful, bespoke way.
Here we talk about how to comfort those in mourning, how to discuss death, and what it's like to work in such a unique industry. This interview has been edited and condensed.
A version of this article first appeared as the Sunday Scaries newsletter. Sign up for free to receive it on Sundays.
It can be a challenge to determine how to be there for people who are grieving. What would you say are some actionable ways people can help the bereaved and be a good support system?
When experiencing a bereavement, some people find that their family and friends will actively avoid them as they find it too awkward and uncomfortable. They might cross the road or avoid making a call because they're too worried about saying the wrong thing. Don't be that person! If you don't know what to say, you can say that you don't know what to say. Just be there for your friend or relative, because lots of people won't be able to be there.
Don't say, "Let me know if there's anything I can do," but be proactive in offering concrete examples of the support you can offer. Perhaps you can take the children to school or take the dog for a walk. You can also ask people what they need. That might just be a hug or a shoulder to cry on.
Some people will find that they are overwhelmed with support before the funeral, but once the funeral has happened, life returns to normal and everyone disappears. But life doesn't return to normal for the person who is grieving. After the funeral can be the most vulnerable time for someone who is bereaved. So it can help to keep showing up.
In a similar way, I think that some people shy away from talking about death in general. What is your response to that — do you think death is something we should discuss openly?
Yes. It really helps to have an honest and open conversation about anything we find awkward or uncomfortable, whether that's death or something else. It means we're more in tune with our own thoughts and feelings about what's happening by the time we have to experience it for ourselves, whether it's our own death or the death of someone we care about.
Our own reactions to death are complex and formed in childhood, so it's important that we're sensitive and gentle with each other when trying to have a conversation. Not everyone will find it easy; it can bring up all sorts of issues and complications.
What are some of the challenges of your profession? Have you learned certain techniques or skills to help mitigate those challenges?
Every day I meet lovely people who are in awful situations. I've also learned that in order to be able to do this work, and do it well, I have to look after myself. I go to supervision to talk about the elements of the role I've found difficult, I have a really supportive team who are all very open, and I make sure I have time with friends. Having fun is key — this work can be heavy and traumatic, so it's important to balance that with enjoying life.
What parts of your job do you enjoy the most?
Being able to put together really thoughtful and meaningful funerals, which genuinely serve the people who are bereaved and honor the person who has died. We spend a lot of time getting to know our clients and working with them to put together something completely unique. No two funerals are ever the same.
Each funeral is totally bespoke to the client. That means different things to different people. It all depends on the personality of the person who has died, who will be attending the funeral, and the circumstances. It's important that the funeral reflects how everyone is feeling and doesn't attempt to dismiss any sad or difficult emotions — it's much better for our long-term well-being to embrace whatever is coming up.
What are your hopes for the funerals of the future — in what direction would you like to see the industry go?
I'm hopeful that the funeral industry is going to have to change; to embrace society's changing needs and the higher expectations people are beginning to have where funerals are concerned. We need a new generation of funeral professionals who are emotionally intelligent, creative, flexible, sensitive, and truly understand grief. The bigger companies will need to stop selling packages based on the number of limousines required and upselling coffins.
I'm hopeful that people will begin to make more informed choices about funerals so they can create a funeral which actually serves them in their pain and their grief. The conventional funeral industry will be forced to change in order to be able to cater to society's higher expectations.