You Really Need to Stop Buying Low-Quality CBD From Cafes and Gas Stations
Get scientifically formulated, high quality CBD from Mellowment instead.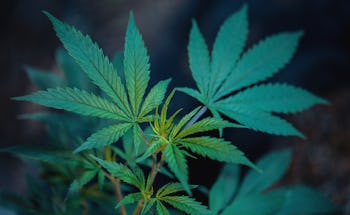 Mellowment
These days you can get CBD products just about anywhere. If you're one of the millions of Americans who use CBD for its myriad health and wellness benefits, that may sound like a good thing. But it's not. Thanks to a lack of government oversight at both state and federal levels, the vast majority of CBD products you find at your local cafes or gas stations are inferior products made with outdated extraction techniques and little-to-no quality control. As a result, most of them don't work or contain illicit amounts of THC, which can result in unwanted psychotropic effects and failed drug tests. If you want pure CBD products that actually work, you need to find a brand that's committed to scientific precision and quality control. And nobody is more committed to those things than Mellowment.
For years there have been mountains of anecdotal evidence suggesting the cannabinoid compound CBD can be very effective in relieving discomfort caused by pain, inflammation, insomnia, stress, and anxiety. Now, at long last, scientists studying human neurotransmitters called endocannabinoids are finally starting to understand why. However, for CBD products to be useful, they have to contain zero THC, and they have to be easily absorbed by the body. And those are two things most CBD companies are very bad at.
Why? Like all cannabinoids, CBD is an oil found in hemp plants. In order to isolate CBD, it must be carefully extracted with specific solvents at precise temperatures. When done correctly, the extraction process results in pure CBD. When done incorrectly, the extraction process can result in CBD that's tainted with THC, the psychoactive compound that gets you high when you smoke marijuana. But proper extraction is only the first step in producing an effective CBD product. Pure CBD oil does not dissolve in water. If it is not emulsified, the CBD will be difficult for your body to absorb, which means most of it will just pass through your system without producing the desired effects.
Luckily, Mellowment has solved these problems.
Mellowment's CBD extracts are meticulously engineered from Colorado-grown hemp using an advanced chromatography process that removes all THC, eliminating the risk of failed drug tests and undesired psychoactive effects. After that the extracts go through a sophisticated nano-emulsification process that essentially shrinks the active ingredients. This makes them water soluble so they can easily permeate cell walls. It also decreases the amount of time it takes for the ingredients to take effect. The end result of all this is the most effective, fastest-acting broad spectrum phytocannabinoid-rich (PCR) hemp extract on the market.
Mellowment doesn't just stop there, though. They also create unique blends of their advanced PCR extract, mixing it with other natural compounds to target specific needs such as inflammation, insomnia, and anxiety.
If you're looking for high quality CBD products—high quality CBD products that can be delivered right to your front door—there's no better time to check out Mellowment. Right now their best-selling products are all $10 off the regular price.
High Impact is Mellowment's most concentrated CBD-only product. Each softgel contains a powerful 25mg dose of Mellowment's PCR nanoemulsion designed to sooth nerves and promote calm comfort and focus. Most customers take 1 to 2 softgels per day. However, you can take up to 4 per day.
Inflammation is an immune system response that is a key factor in numerous ailments, from hypertension and diabetes to depression and arthritis. Recently scientists have started to realize that manipulating the endocannabinoid system with external cannabinoids like CBD can be an effective treatment for inflammatory disorders. That's why Mellowment designed Mellowment High Impact for Inflammation. It contains a powerful 25mg dose of their PCR nanoemulsion, plus a 10mg dose of curcumin, the active ingredient in tumeric that has long been hailed for its anti-inflammatory properties.
For those who use CBD to relieve the stress and anxiety that interfere with sleep, Mellowment has partnered with Gravity—makers of the famous Gravity Blanket—to develop the best CBD-based sleep aid on the market. In addition to a powerful 25mg dose of PCR nanoemulsion, each Mellowment + Gravity PM softgel contains 1mg of melatonin and 1mg of chamomile. It's specifically formulated to help you fall faster into a deeper sleep.
Whatever your specific needs, Mellowment has a scientifically engineered CBD product that's right for you, so click here to learn more.