CBD Products Are Helping Millions. Here's Why and How to Get Yours
Relaxation, pain relief, anxiety relief, and more is all available from the oils of this once-illegal plant. How do you get some?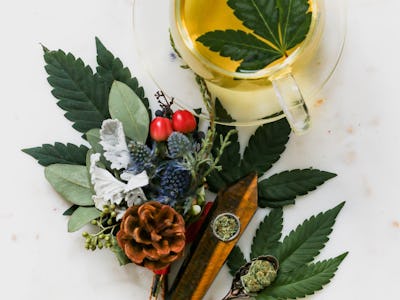 Unsplash / Kimzy Nanney
CBD stands for Cannabidiol. It's found in the flowers of the Cannabis plant. Humans have been using it for health care for thousands of years.
Also found in the Cannabis plant is a more-famous compound tetrahydrocannabinol (THC) the compound that gets you high.
CBD has medicinal properties, which, because of recent changes in laws about growing and owning the plant both compounds come from, we are now able to purchase and use.
This is great for anyone with chronic pain, anxiety, sleeplessness and a host of other ailments because CBD is a very effective, non-addictive, gentle treatment for many of these.
How do you get some?
Go to Eaze Wellness,, tell it your address, and find out if you can have CBD products shipped directly to you.
Eaze Wellness makes sells a variety of CBD products that are made from Hemp, the industrial version of Cannabis Sativa that is legal because is contains less than .3% THC on a dry weight basis. Because of this, it can ship products to 42 States plus D.C.
CBD is not reefer. It does not make you stoned. In fact, you can use it to improve your focus. This formula is designed to get you through that afternoon wall where you just can't get anymore work done. Take a hit from this vape pen. Get your brain back. Crank out some more work.
CBD is also not necessarily something you smoke. It is extracted from the plant into oils. Those oils can be smoke with a vape pen (above) or added to foods, lotions, patches, and balms.
CBD is great for calming your anxiety. This formulation is designed to calm you down. It has been added to capsules so that you can take them like a supplement to dial down your worry, jumpiness, and irrational fight or flight response.
This patch, which you apply to your wrist, is full of vitamins and a CBD formulation designed to help you recover from a night of rowdy partying. You can wear it for 12 hours and it will feed you a steady drip of wellness the whole time.
Turn your dog into a stoner! Not really. This won't get her stoned but it will help her get up and moving when she hurts, which unfortunately happens to our canine best friends when they are far too young. Try this on your medium sized dog instead of the strong pain killers the vet offers to keep her feeling youthful and spry.
Not feeling it? But it's date night and you want to be feeling it! Drop one of these bombs into a bath, get in, and fire up your libido. CBD is famous for its ability to get you into your body so you can locate and activate your sexy vibe. Stay in the tub for a half hour and soak in the CBD and other natural herbs and scents. When you come out of there….Watch out! Boom chica wow wow!