This New Mattress From Brooklyn Bedding Is Like Nothing You've Ever Slept on Before
A new mattress by beloved sleep brand, Brooklyn Bedding, shakes up what you can expect from your bed.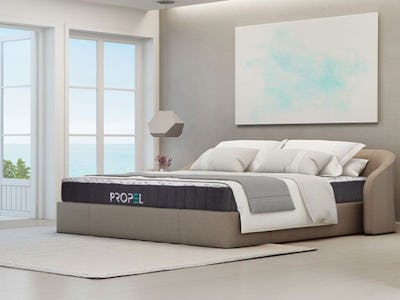 Brooklyn Bedding
I've written about a lot of mattresses this year. And it's been an illuminating experience. It led me to the realization that my bed was the source of a lot of chronic aches and pains I had just come to accept as part of my aging body's natural process. But that wasn't the case, I was just complacent and scared of investing a large sum of my money in my personal happiness. And then I got a new bed.
Your body works hard for you, your bed should help take the load off your shoulders. As I said, I've written about a lot of beds so far this year. And no mattress compares to Brooklyn Bedding's newly launched, Propel Mattress. Designed with Upcycle™ technology, the Propel by Brooklyn Bedding incorporates a proprietary fabric blend with encapsulated minerals that will transform your body's natural heat into Far Infared Rays that can then be transferred back to your body. But what does that even mean?
Far Infared Rays work to stimulate blood flow while you sleep so that your body experiences a more restorative sleep. Designed to provide an universal medium firmness that works for any type of sleeper, the Propel mattress) will provide much needed relief to your pressure points, muscles and joints so that you really are resting. Featuring 6 layers of foam meant to provide the utmost in quality and construction, the top layer of this amazing mattress features Brooklyn Bedding's very own TitanCool™ phase change molecule surface infusion and revolutionary COPPERFLEX™ FOAM, which is basically just a fancy way of saying, "this bed will do everything in its power to bring you a comfortable night's sleep that doesn't include overheating." The infused copper adds additional anti-microbial factors to your mattress so that it's not holding onto anything that might deliver an unsatisfactory sleep result.
The top layer of foam works to contour to your body for ideal support that doesn't give you the sinking feeling of too soft mattress. But softness is important to sleep—it just can't be the only thing you feel, otherwise you would just sleep on a pillow—so Brooklyn Bedding made sure to incorporate a 2-inch second layer of hyper-elastic Energex™ foam that will provide you with the soft comfort you desire. The third layer includes swirl gel memory foam that aids in the cooling comfort of the earlier layers while also contributing to the necessary contour support you need. After that, only 2 layers remain, and they're arguably among the most important.
The fifth layer is a 6-inch base layer of 1,024 individually encased coils that provides much needed structure to all the above layers of foam. A hybrid mattress, the Propel's coils allow for increased support, reactivity and motion isolation so if you sleep with a partner you're not disturbing them if you toss and turn often. Finally, the sixth layer is another layer of high-density foam that aids in the durability of your mattress—it does after all have a 10-year warranty—while also reinforcing the support of the above coils as they compress under the weight of your sleeping body.
While the new Propel mattress takes on a lot of new and innovative concepts to provide you with sleep that truly feels restful for your body, it's not shaking up what works. Mattress-in-a-box brands have eclipsed traditional mattress options as the way consumers are getting new beds. Brooklyn Bedding is no different and has been shipping their mattresses right to your door vacuum packed in conveniently sized boxes, so that you can easily get your new bed to your bedroom without worry of narrow doorways or tight squeezes.
The Propel Mattress is made-to-order in the USA and comes complete with a 10-year warranty, that'll cover any manufacturing defects or any body impressions that measure more than 1 inch deep. Not yet convinced? Like other mattress-in-a-box brands, Brooklyn Bedding's Propel Mattress comes with a 120-night risk free trial that will enable you to return your mattress if you don't love it with no questions asked.
So go on, try it. You and your body deserve it. It's available in all the usual sizes, but also includes Twin XL and California King sizing at remarkable affordability.