Relax Like Never Before With This Perfect Weighted Blanket
Sleep like a baby with this ultra-comforting blanket.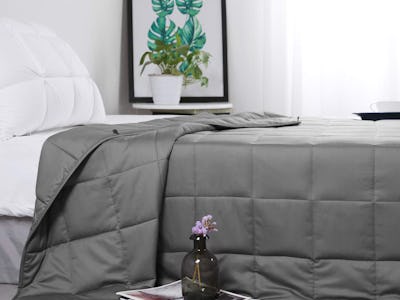 Amazon
Some of us have lived with anxiety for so long that we don't even know we have it. Heart racing? Sleepless nights? That's just who we are, we tell ourselves and seethe in bitter jealousy at anyone who seems to handle life with relative ease. But it's not who you are and you deserve a good night's sleep and unmatched comfort just as much as anyone else. That's where the weighted blanket comes in.
Weighted blankets came on the scene a few years back as a comfort solution for people with sensory issues. Uncomfortable with touch and other forms of stimuli, the weighted blanket provides the soothing feeling of a hug without the invasion of personal space. After much reported success for those with sensory processing issues, weighted blankets became beloved for their benefits for all kinds of people.
Struggle with insomnia? Struggle to fall asleep and stay asleep? A weighted blanket will alleviate many of those symptoms for you. Knowing this, I set out to find the fan-favorite weighted blanket on Amazon. Why Amazon? Most people I know default on Amazon for all their online shopping so I figured it would be a powerful indicator of which weighted blanket people were enjoying the most.
That's how I found the EDILLY Weighted Blanket. One of the only products I've ever come across consistently reviewed a solid 5 stars, the EDILLY Weighted Blanket comes in 2 sizes and 2 weights. The twin sized option comes in a pretty standard 20 pound weight, while the queen sized option is available in the same 20 pound weight or you could scale up 5 pounds to the 25 pound weight.
Each blanket contains approximately 178 stitched compartments that have a glass bead sewn into place to prevent noise and apply an evenly distributed weight that never feels like too much. The inclusion of glass beads will also prevent any unwanted allergens and odors for latching on to your new favorite blanket. Perfect for all seasons, EDILLY's weighted blanket is made out of 100% breathable cotton so that you're never overheating while you sleep.
While your usual weighted blanket is often filled with fibers, EDILLY's weighted blanket is constructed with 7 layers for the perfect feel. These layers include a top and bottom 100% cotton surface and 2 layers of polyester filling sandwiching a proprietary HDC particle filling, so that you can rest easy knowing you aren't simply sleeping with an overstuffed blanket. Instead you are sleeping with a blanket designed with you and your needs in mind.
So… if you struggle with sleep, have sensory issues, know anyone with similar struggles or you just want to see what the hype is all about, look no further than EDILLY's Weighted Blanket. If the reviews are any indication, you absolutely will not regret it.