This At-Home Fertility Clinic Lets Men Get Tested in Privacy & Comfort
Dadi helps men get their fertility tested without breaking the bank or setting foot in a clinic.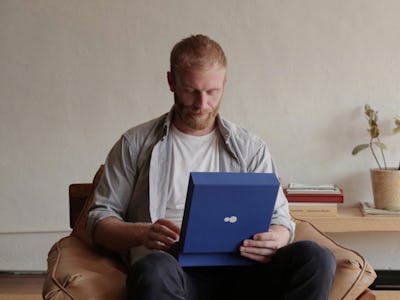 dadikit
In general, men don't really like to think about the issue of male infertility, let alone talk about it. For many, fertility is inextricably linked to virility and sexual prowess. The mere suggestion that they might not be able to impregnate their partner can be a huge blow to their egos. However, thanks to a new company called Dadi, now there's a way for men to take charge of their reproductive health and plan for the future from the comfort of their own homes.
Studies show that the peak of male fertility is between 25 and 29 years of age. After that your sperm decreases in both quantity and quality. Men over the age of 40 have a lower sperm count than men in their mid 20s, making it five times harder to conceive. And if they do conceive, the chances of DNA damage, birth defects, neurocognitive disorders, schizophrenia, autism, and miscarriage are all significantly higher than they are for younger fathers.
But wait. It gets worse. For reasons we don't fully understand, between 1972 and 2011, sperm counts in Western countries dropped by a whopping 52.4%. That means, on average, millennials are only half as fertile as their fathers.
When you consider the fact that men are waiting longer than ever to get married and start families, all of this is very good news for the billion-dollar male infertility industry. Or it would be good news, if not for game-changing startups like Dadi.
The best time to take action against male infertility is before it strikes. Many male infertility problems—including $15,000 in vitro fertilization treatments—could be avoided if men in their 20s and early 30s had their fertility tested and then banked healthy sperm for later use. In the past, cost has prohibited some men from taking precautions. But now, thanks to Dadi, it's easier and cheaper than ever before.
Dadi has developed an innovative new approach to men's fertility testing and sperm storage that doesn't require awkward trips to a clinic. They send a temperature-controlled kit right to the patient's door. Next, the patient collects his own sample in the privacy and comfort of his own home, and returns it via Dadi's secure, overnight-shipping process. Upon arrival at the Dadi lab, a technician will processes the sample and email a detailed, personalized fertility report within 24 hours, along with a video of the actual sample.
But the best part for patients—and the worst part for traditional brick-and-mortar fertility clinics—is the price. With Dadi, the kit, the shipping, the testing, and the fertility report is only $99. And if the sample is healthy, it can be stored indefinitely by cryogenics professionals at Legacy's state-of-the-art lab for just $9.99 per month, or $99 per year.
Traditional sperm banks can can charge $1,000 a year or more.
Don't sit around and wait for male infertility to affect your life. Dadi makes it easy and affordable to be proactive.