Men With Depression Need Better Mental Health Solutions
A new study offers insight into treating depression in males more effectively.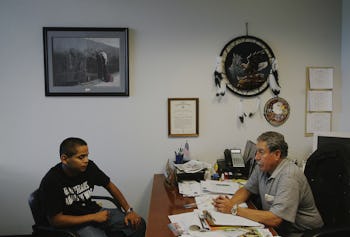 Getty Images / Chris Hondros
Unstructured talk therapy is inadequate to fully address depression in men, says Zac Seidler, a PhD candidate at the University of Sydney's School of Psychology.
"A lot more of men now seek help but many aren't engaging with their treatment and therefore don't stay as long as they should," he says. Seidler says that the number of Australian men seeking help for depression has risen by about 10 percent in the last 10 years. Unfortunately, although more men are seeking treatment, the number of completed suicides has largely remained the same. Males account for almost 75 percent of the total suicide rate in Australia.
"With available data suggesting many men who commit suicide seek professional help beforehand, this is a critical period in many people's lives, and one we ought to be getting right," he says. This point is of particular importance: if mental health clinicians can intervene successfully enough, suicides can be prevented.
So what are men largely lacking when they are seeing a therapist? Seidler's points out that traditional masculinity values "risk-taking and wanting to regain strength to our advantage," he says. "Men tend to want an idea of how treatment is going to work from the outset, a structured plan for working towards recovery." Talk therapy tends to value short, unfocused discussion, led largely by the patient — Seidler's research indicates that a long-term, structured approach may be more effective in combating depression in males.
"A concerted effort towards active and empowering treatment should decrease the burden on clinicians through shorter treatment periods using a clear, structured approach. It should also increase men's mental health literacy and equip them with the skills they need to deal with depression so they are prepared when the next crisis arises," says Seidler.
Men, he concludes, could benefit from long-term goal setting and coping mechanisms over "talking it out." Seidler will next focus on creating a men's treatment plan for mental health providers.